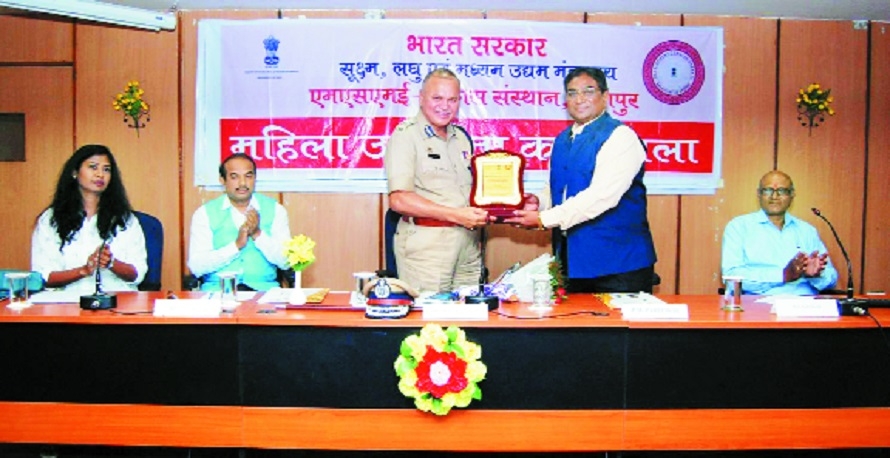 Director - MSME-DI P M Parlewar felicitating Joint Commissioner of Police - Ravindra Kadam while Manisha Bawankar, Nitin Lonkar and K T Kalkar are also seen.
Business Bureau:
With the objective of creating awareness on various schemes of the Government for the benefit of women entrepreneurs, MSME-DI Nagpur organised one-day workshop on 'Women entrepreneurship for the existing and prospective women entrepreneurs of Vidarbha region'. Ravindra Kadam, Joint Commissioner of Police, was chief guest on the occasion while Nitin Lonkar, President; Butibori Manufacturers Association, was the guest of honour. P M Parlewar, Director, MSME-DI Nagpur presided over the function. In his address, Ravindra Kadam said that at effective steps needed to create entrepreneurial awareness among women. Besides, more orientation and skill development programmes should also be held for women, he added.
"The role of women entrepreneur in economic development is also being recognized and steps are being taken to promote women entrepreneurship," he said appreciating MSME-DI Nagpur for creating awareness on entrepreneurship and said though women face many problems and challenges in their path of becoming a successful entrepreneur, the Government has taken many initiatives for their growth. "It can be said that there is a long way to go for women entrepreneurs and MSMEs in India and their success is the success of Indian economy," he said.
Parlewar said more and more women were taking up entrepreneurship as their career. "Still there is a dire need of creating awareness among women entrepreneurs about various Government schemes and the main objective of such workshop is to motivate them to start their own enterprise and become self employed," he said. Further, he said though percentage of women had increased in entrepreneurs, their number still significantly low. "As women entrepreneurs are an integral part of the global quest for sustained economic development and social progress, they should get acquainted with the various schemes Ministry of MSME and benefit from them, he stressed and briefed about various schemes of MSME like PMEGP, TREAD for women entrepreneurs subsidies given to women entrepreneurs in various domestic and international trade fairs, etc.
Lonkar said that women entrepreneurship has been recognised as an important source of economic growth. "Indian women are not only educated, talented, confident, assertive, ambitious, career oriented but they also know their minds. Foresight, time-management ability, patience, ability of taking calculative risks, are ingrained in the modern women, he said.
He assured all help to existing and prospective women entrepreneurs from BMA. Manisha Bawankar, Secretary of Vidarbha Industries Association Lady Entrepreneurs' Wing (VIA-LEW) said MSME was providing very good platform for women entrepreneurs. She said in today's world where jobs were getting scarce, self employment was very important. She appealed to all the women entrepreneurs to get benefited from the Government schemes and contribute in the development of the nation. She also assured all help from VIA -LEW and appealed the participants to take part in the exhibitions organised by VIA. The inaugural session was followed by technical session where Manish Jha, Inv, MSME-DI spoke on women entrepreneurship, Rahul Mishra, A D MSME-DI gave presentation on schemes of M/o MSME, Dr Sona Kumar spoke on women and law and Asmita Deshmukh narrated her journey towards successful entrepreneur. The programme was co-ordinated by K T Kalkar, Assistant Director, Nagpur and Rahul Mishra, A D MSME-DI, conducted the proceedings and also proposed a formal vote of thanks.