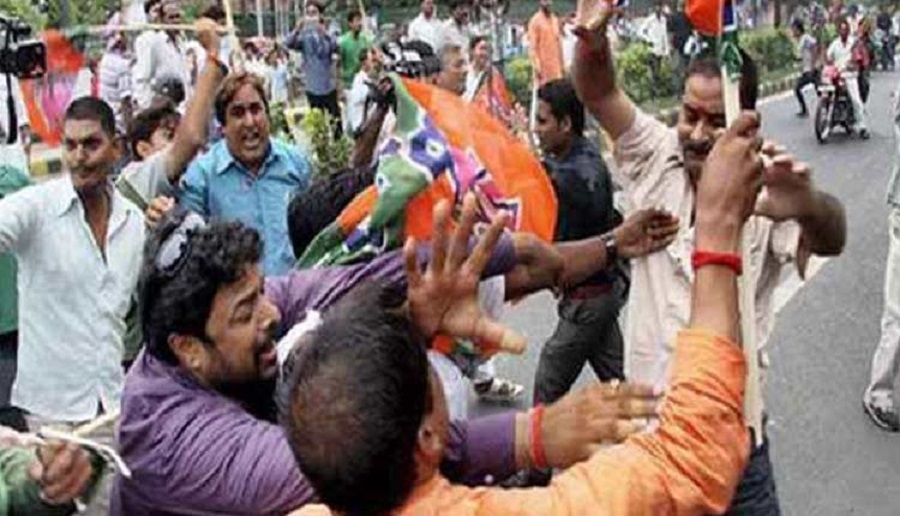 GIVEN the ugly violence that has been dogging the State before the recent Lok Sabha elections and its continuance thereafter, it is time the Centre thought positively about bringing West Bengal under President's Rule. There are reasons to believe that the continuing spell of violence is being masterminded by none other than the ruling Trinamool Congress (TMC) party whose bosses are apprehensive about losing their political base in their own stronghold.
The recent Lok Sabha elections have made it clear that the Bharatiya Janata Party has made a deep inroad into West Bengal and taken its tally into double digits. Because she could not anticipate such a setback, Trinamool Congress supremo Ms. Mamata Banerjee has lost her sense of balance and has allowed her cadres to indulge in wanton violence, to which West Bengal Police is turning a blind eye. In many cases, it has been found that West Bengal Police are supporting and protecting the Trinamool Congress goons and are harassing the Bharatiya Janata Party (BJP) workers.
Despite all the Central Government's advisories to West Bengal, the State Government has refused to cooperate in proper maintenance of law and order. It is because of this reason that we suggest to the Centre a decision to impose President's Rule so that law and order is restored and the clogged political process starts flowing freely once again. To rein in Ms. Mamata Banerjee's belligerence is the need of the hour, and that cannot be achieved through appeals to her good sense. This has been tried several times by many in the past one and a half years, but to no avail.
She seems to have made it a point to oppose whatever the Centre or Prime Minister Mr. Narendra Modi does or says. In her brazen refusal to see sense, Ms. Banerjee has not bothered about the sad reality that she is entering into an unnecessary conflict with the Centre and forcing a constitutional crisis. So blinded has she become due to her obnoxious political ambition that she does not mind defying constitutional directives and the principle of responsibility as Chief Minister. And as she is pushing her political agenda senselessly, she is reportedly encouraging her party cadres to indulge in wanton violence so as to intimidate the BJP workers and common voters who have favoured the BJP in the last elections.
During the run up to the Lok Sabha polls, almost all Opposition leaders went nearly berserk making statements that conformed to no norms of protocol and decency as well as national interest. Their propaganda was based totally on falsehood which they felt they could push down the people's throats by hammering lies into the voters' heads. The Opposition leaders paid no heed to wise counsel by well wishers and went still more berserk. The elections came and proved the Opposition fully wrong. No matter that tight slap of reality on their faces, the Opposition leaders continued to talk nonsense. Ms. Banerjee is one of their leaders in all the acts of stupidity and absurdity.
Given this background, it appears nearly impossible to make Ms. Banerjee and her likes to see sense and rectify their conduct. In such a situation, the Centre does not seem to have any option but to impose President's Rule. Of course, it may take its own time to do so, considering mainly the fact that the State of West Bengal will go to legislative polls in some time. In that case, the Centre may think it wise to control the worsening law and order situation in West Bengal through normal methods such as official directives which it can issue constitutionally. However, we suspect that no efforts to establish some sanity in the TMC leader and West Bengal Chief Minister will succeed, thanks to the woman's brazenness. No matter that, the decision to go for President's Rule will have its own tough points to ponder upon.