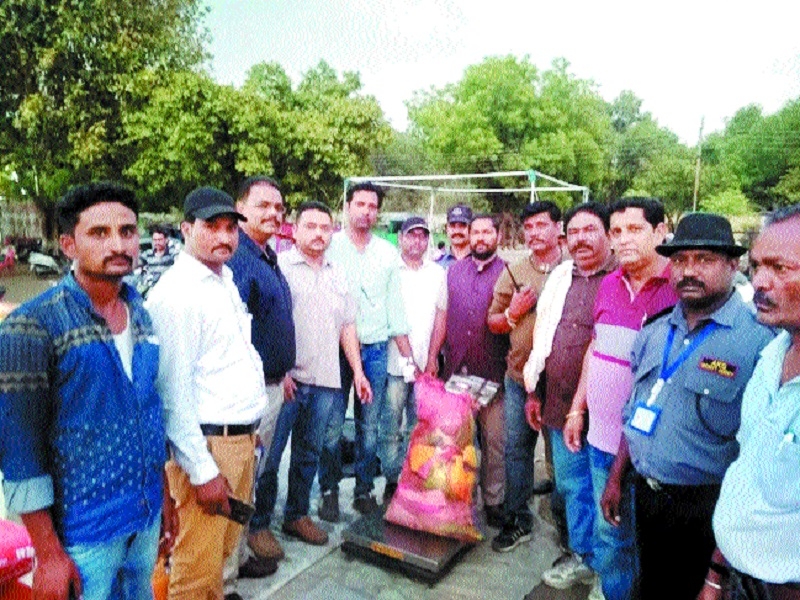 Staff Reporter:
BHEL in collaboration with Bhopal Municipal Corporation (BMC) organised anti-polythene campaign at Vijay Market Berkheda. The BMC squad seized around 15 kilogram of polythene and complaints against 15 shopkeepers has been registered for use of polythene. The campaign is being launched from past one week in which various awareness programmes are also being held at BHEL markets to encourage shop keepers to not to use polythene .
The polythene bags used in haat bazaar and shopping complex are however creating problems . Notably Bhopal Municipal Corporation has already declared BHEL as Pollution Free Zone. BMC is also organising workshop in these areas so as to enhance community participation of BHEL employees over polythene free zone. Bhopal Municipal Corporation Health Officer Rakesh Sharma said that the BMC anti-encroahment squad , BHEL administration jointly are conducting this drive in the area .From BHEK RP Tripathi, R P Singh, SP Khan,SK Chaturvedi, S N Batham, J P Singh, Manoj Tripathi etc were present. Warning has also been issued to shopkeepers to not to encroach areas adjacent to their shops especially in Vijay market which also becomes reason of traffic jam.
Awareness programmes to stop use, sale and storage of plastic carry bags and packaging is being organized in all nook and corners of city .It was also alleged by environmentalist that the standards of manufacture and disposal of polythene are not being followed leading to littering on the roads, clogging of drains and health hazard to human beings and cattle. They have also stated that the indifferent attitude of the people who are not taking any action to ensure compliance of Plastic Waste (Management and Handling) Rules can be changed by emphasizing on behavior of attitude.
BMC is looking into seize plastic carry bags which is less than 40 microns in thickness and being used indiscriminately creating severe environmental hazard. Besides in order to bring in change of attitude CYOB( Carry your own bag campaign has also been launched . The BMC squad also highlighted the menace of huge quantity of plastic waste being generated because of the indiscriminate use and littering of plastic carry bags not only in the BHEL but other parts of the city.