City scientist leads the way for country's first dinosaur museum and fossil park in Gujarat
(left)
Fossilised eggs of dinosaurs found in Mahisagar district of Gujarat. (right)
Fossilised eggs of dinosaurs found in Mahisagar district of Gujarat.
By Shirish Borkar:
SCIENTIFIC expertise of city-based internationally acclaimed palaeontologist Dr D M Mohabey proved to be a boon for the Gujarat Government in setting up the country's first Dinosaur Museum & Fossil Park at Raioli, Balanisor taluka in Mahisagar district. Former Deputy Director General of Geological Survey of India (GSI), Dr Mohabey had discovered hundreds of fossilised eggs and nests of dinosaurs in Lameta formation, who ruled the earth some 67 million years ago, at Mahisagar district (carved out of Panchmahal and Kheda) of Gujarat in 1981.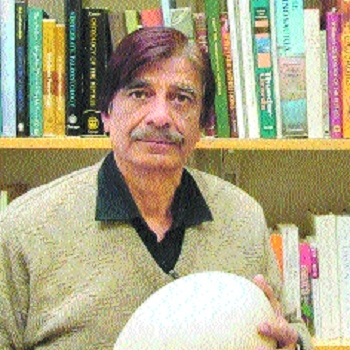 The biggest of the eggs discovered by him was of the size of a football. At the same site, a field museum equipped with modern technology like 3D projection, virtual reality presentations, interactive kiosks and life-size dinosaur replicas, has been set up. It was recently inaugurated by Gujarat Chief Minister Vijay Rupani. With the state-of-the-art scientific and technical know-how, the museum, which is third of its kind in the world has been built by Tourism Corporation of Gujarat Limited (TCGL) with the support of Vama Communications. Former Director of Paleontology Division of GSA, Dr Mohabey along with G N Dwivedi (GSI) had also discovered hundreds of fossilised bones and other skeletal remains of Sauropds (quadruped lizard-hipped Titanosaurs -- herbivorous dinosaurs) and Theropods (Abelisaurus -- Carnivorous dinosaurs) from the same site which is unique in the world. The site also has hatcheries and 'graveyard' of dinosaurs. Gujarat, Madhya Pradesh and parts of Vidarbha in Maharashtra were believed to be the home to dinosaurs some 230 million years ago.
A specie of herbivorous dinosaur at display in the museum.
More than 16 species of dinosaurs and contemporary reptiles like snakes, crocodile and turtles were found by scientists. GSI had excavated Raioli site in Mahisagar district from 1982 to 1985 and collected 350 fossilised bones of Sauropods and Theropods. After more than 10,000 fossilised eggs of dinosaurs were found from Raioli, Gujarat Government declared it as a protected site under the provisions of Bombay Police Act on December 6, 1997, threreby becoming the only protected geological site in the country. Dr Mohabey, in collaboration with Prof Jeferry A Wilson from Museum of Palaeontology and Department of Geological Sciences, University of Michigan, USA, also conducted a detailed study of a rare fossil of Late Cretaceous (67 million years old) snake fossil found in Dholi Dungri in Kheda district of Gujarat. The remains of a nearly complete snake were found preserved in the nest of a Sauropod dinosaur. The snake was coiled around a hatched egg adjacent to a hatchling Sauropod. The snake, which was named 'Sanajeh indicus' or " ancient-gaped one from India" because of its lizard-like gape helped scientists to resolve the early diversification of snakes. The study revealed that the newly described snake made its living feeding on young dinosaurs. Indian Statistical Institute had also excavated the same site and collected 1000 dinosaurian bones. After conducting studies, they identified presence of Rihiolisaurs. TCGL then set up a small museum at the site.
With the scientific guidance of Dr Mohabey, the TCGL developed it as a mega museum with a fossil park. Dr Mohabey, who had conducted in-depth research on eggs, coprolites (dung mass), dietary habits and ichnology (study of foot tracks) of dinosaurs, identified presence of Rajasaurus dinosaurs. He had also discovered skeletal remains of Sauropod Isisaurus from Pisdura, bones of other species of dinosaurs from Dongargaon in Warora taluka of Chandrapur district and some villages near Umrer in Nagpur district. Dinosaurs made their appearance in India during the Mesozoic period, near 230 million years ago and ruled the earth through Jurassic and Cretaceous periods (150 million years) and suddenly became extinct about 65 million years ago.
A recipient of National Mineral Award for research on dinosaurs and discovery of rare fossils of these 'terrible lizards,' Dr Mohabey is presently working as a senior Scientist with Post Graduate Teaching Department of Geology, RTM Nagpur University, researching with Associate Prof Dr Bandana Samant on 'History of reptiles and plants, their extinction at Cretaceous tertiary boundary and climatic changes.' The research is being conducted under the Ministry of Earth Sciences, Government of India and National Science Foundation, USA.