Maoist Narmadakka, husband Kiran nabbed in Telangana, handed over to Gadchiroli Police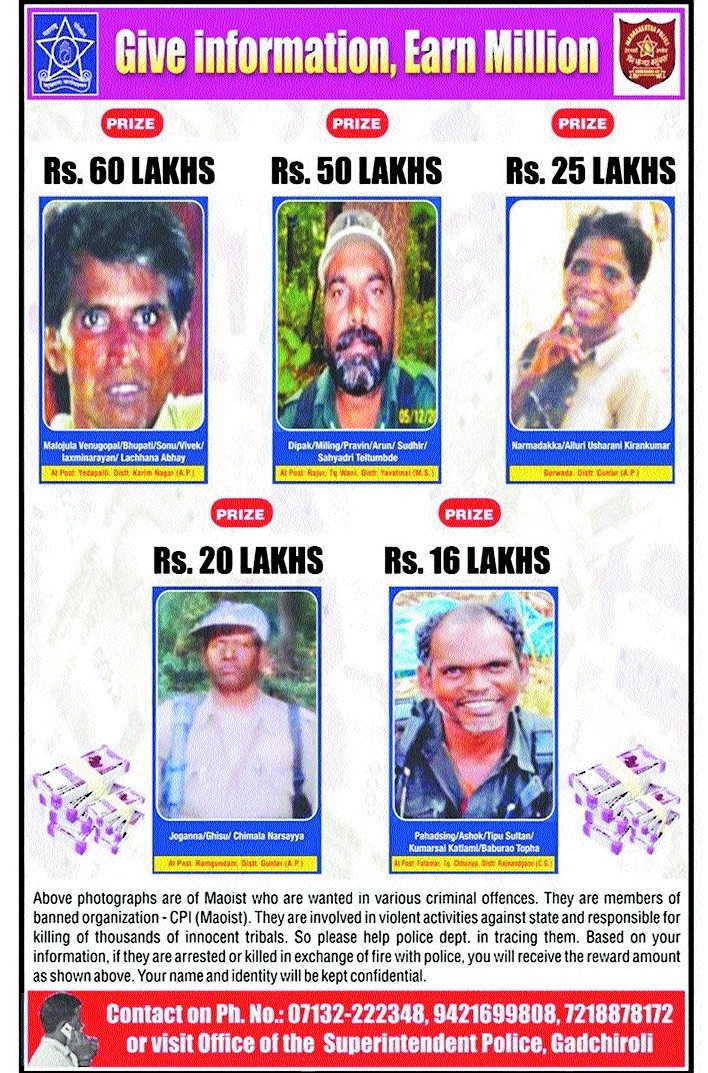 Staff Reporter:
Narmadakka and her husband both were carrying a reward of over Rs 20 lakh each
Kiran was allegedly involved in IED blast that killed 16 persons including 15 policemen on May 1 in Gadchiroli
:
A dreaded Maoist leader Alluri Usharani Kirankumar, popularly known as Narmadakka, and her husband Kirankumar were nabbed a few days ago in Telangana and handed over to Gadchiroli Police on Monday. The couple carried a reward of over Rs 20 lakh each. Narmadakka hailed from village Gurwada in Guntur district of erstwhile Andhra Pradesh. She was known by another alias Sujathakka too. She was active in the erstwhile Naxalite and now Maoist ranks for over 20 years. She was dreaded by villagers in Gadchiroli district and even in adjoining parts of Chhattisgarh. A college dropout, Narmadakka had joined the Naxalite file years ago.
With her major role in several violent activities, she rose in the organisation. After the CPI (Maoist) came into being, she was appointed as Divisional Secretary of South Gadchiroli Division of the organisation. Soon after, she became a dreaded name. She constituted five platoons in the area of her operation and effected several activities. She was also credited with recruiting young women into CPI (Maoist) files. Gradually, she was made a Member of Central Committee of CPI (Maoist). In December 2012, police believed that Narmadakka was killed in an encounter near Hidur in Gadchiroli district. She was believed to have been buried at village Malwada in Kanker district of Chhattisgarh.
However, later, it could not be confirmed. According to sources, of late, Narmadakka was suffering from some kind of Cancer and had undergone chemotherapy. She had become frail and too week to walk by herself in the past few months. She had reportedly left the Maoist rank in late 2018 on health grounds. Sources said that Telangana Police nabbed her and her husband Kiran a few days ago and extracted information through quizzing from them.
Later on, they handed over the couple to Gadchiroli Police. However, Gadchiroli Police chose not to respond to calls. Also, it did not issue any official statement in this regard till filing of this report on Tuesday night. Narmadakka's husband Kiran was also known by an alias Sudhakar. He was reportedly with publication division of CPI (Maoist) and also a Polit Bureau member of the banned organisation. A man known for technological soundness, he also looked after publication of magazine 'Prabhat'. He was a Member of Dandakaranya Special Zonal Committee (DKSZC) and in-charge of Gadchiroli district. The 57-years-old Maoist was a native of Vijaywada in erstwhile Andhra Pradesh. He is believed to have been involved in the killing of 16 persons including 15 policemen in an Improvised Explosive Device (IED) blast in Gadchiroli district on May 1 earlier this year.