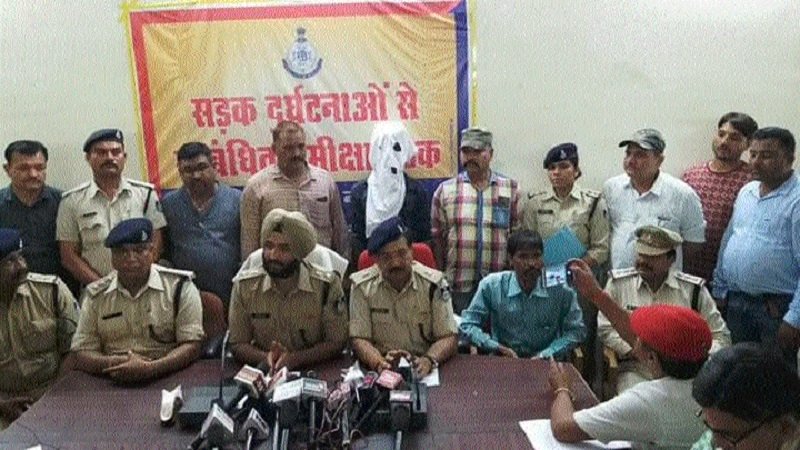 Staff Reporter:
In a major breakthrough, Narsinghpur police succeeded in rescuing an 8-year-old girl and apprehended the accused within 36-hours of the incident. The accused has been identified as Rajendra Shukla (27), a resident of Kanskhera Mohalla, Devri village in Sagar district and working as cycle repairing workshop. It may be noted that a man named Rameshwar Patel, a resident of Basadehi village in Kareli, on June 9, lodged a complaint that his minor aged girl who was playing outside the house was abducted by unidentified person.
Taking a serious note into the case, Inspector General of Police (Jabalpur Zone), Vivek Sharma had constituted a team under the supervision of Superintendent of Police, Narsinghpur, Gurkaran Singh comprised of Additional SP, Rajesh Tiwari and SDOP (Tendukhera), Mohanti Maravi for investigation into the case and rescuing the abducted girl. SP, Narsinghpur, Gurkaran Singh disclosed this while addressing a press conference, on Tuesday. He informed that investigating the case, police called a dog squad from Jabalpur and started a search near sugarcane farms with the team of around 80 policemen. On the basis of statements of girl's family members and villagers, police held doubt on a suspected man named Rajendra Shukla who tried to misguide the police and informed that he consumed liquor with a man at Panchvati Dhaba at around 8 am and returned home.
Victim's parents informed that she was playing near Panchvati Dhaba and was last sight at around 11 am. Police started inquiry at other Dhabas and tea kiosks and received information that a man along with a little girl took tea for him and girl and walked away towards Barman road. Police obtained CCTV footages of Panchvati Dhaba and identified the missing girl with a man by tea kiosk owner named Tulsabai Chadhar.Separate police teams started search in sugarcane farms and received information that a man was sight with a little girl in Gogabali village who went from highway bus stand in a bus towards Sagar district.
Acting promptly on the information, SP, Additional SP and other officers visited the spot and again questioned the suspect Rajendra Shukla who confessed the abduction of girl and leave her at residence of Brajrani Patel in Devri village as his daughter and told her for soon taking her back. On his identification, police team reached the identified house of Brajrani Patel and safely rescued the girl. The girl was rescued with active working of police team comprised of SHO, Kareli, Naval Arya, SI, Rohit Patel, SI, Deepti Mishra, ASI, Sanjay Suryavanshi, Head Constable, Rajesh Sharma, Sanjay Mishra, Constables, Rajendra Patel, Sainik Sunil Sharma and Crime Branch, Jabalpur team.