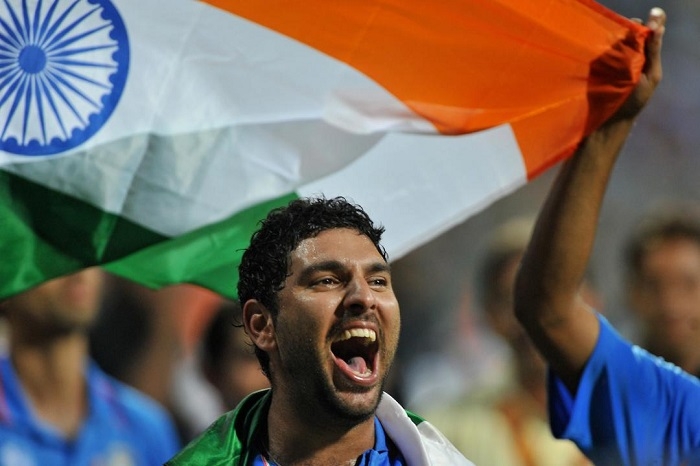 A FIGHTER to the hilt is how one can describe Yuvraj Singh. For, his entire illustrious career in international cricket has tales full of amazing ability of overcoming disasters. Yet, the way this maverick ruled limited overs cricket for almost two decades will define Yuvraj Singh's legacy. While the images of a blood-throwing southpaw on his haunches and springing up next moment to carve a memorable century will remain affixed in cricket fans' memory, the biggest story that goes beyond these achievements is the way Yuvraj thrashed Cancer.
Yuvraj Singh remains the most fulfilling cricketer India has got in white-ball cricket. Armed with astonishing strokeplay, tigerish leaps on the field, and stupendous art of picking up wickets, Yuvraj was a complete package that every captain wants in his team. From the start in Nairobi in 2000 when he took on Steve Waugh's Australia in the ICC Knock-Outs for a fearless 84-run knock, to the cuddling of the World Cup trophy in Mumbai in 2011, Yuvraj's has been a mesmerising journey that produced awe and surprise in equal terms.
Awe for his tremendous strokes that gave India some famous limited overs victories. And surprise for not being able to translate that potential in Test cricket. It remained an enigma which suited the personality of the boy from Chandigarh. What makes Yuvraj a class apart is the belief he put in himself and also in his team. The six sixes off Stuart Broad in the inaugural Twenty20 World Cup in 2007 were product of immense pride of wearing an India cap. That pride was unnecessary needled in that game by England's Andrew Flintoff.
The world soon realised the effects of cornering a young Indian who wears his national pride on sleeves. Such moments regularly became milestones in Indian cricket's journey since the start of the new millennium. The jailbreak he engineered with Mohammad Kaif in the 2002 NatWest Trophy final, the stunning catches he took in the Champions Trophy semis against South Africa in the same year, the 169 against Pakistan in a 2007 Test, heroics in 2007 and 2011 World Cup victories, till the latest fling in the IPL, Yuvraj gifted Indians some priceless gems. He has now called time on career but Yuvrajs never retire. They inspire.