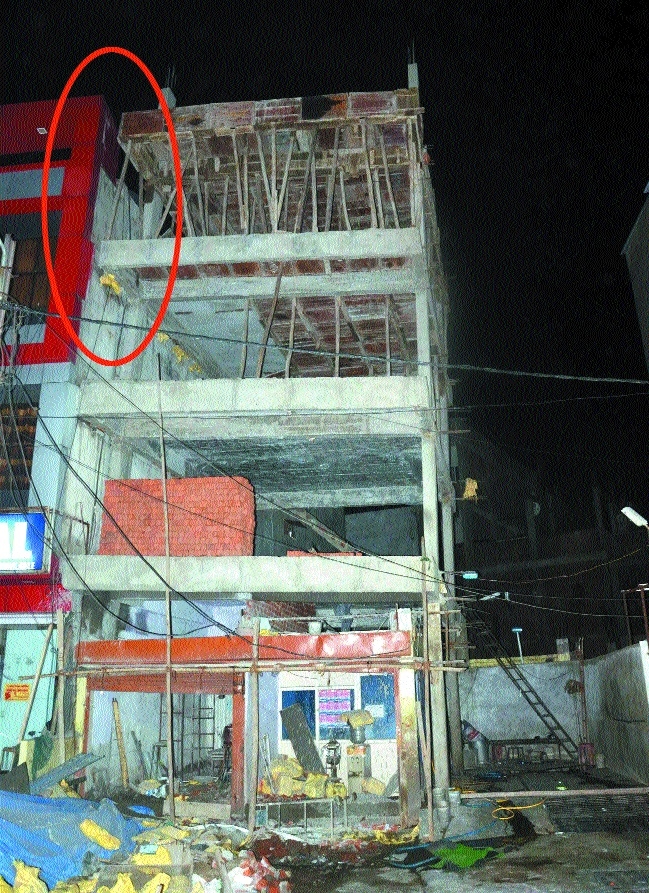 Staff Reporter:
Residents in Aishbgah area started running in fear after they saw a newly-constructed building at 80-feet road developed cracks in the pillars and tilted dangerously to one side. The four-storyed building was under construction for a few months only. As news about the building spread in the neighbourhood, a nearby hospital that lies adjoining to the building which is on the verge of collapse was being evacuated as a precautionary measure.
It was yet to be revealed whether the construction was legal or illegal. The building is located at 80-feet road in Aishbagh area near platform number 1 of railway station. It was at around 7 in the evening when the residents in the area saw the building shaking and a portion of it, slowly caved in by the time rescue work began.
The teams of Fire Department of the Bhopal Municipal Corporation (BMC) reached the spot and were waiting for hydraulic platform and Porcelain machines to start the work till 9:30 pm. The residents of the area had gathered there and the building was then cordoned off to avoid any untoward incident. A team of 200 personnel from the BMC and the district administration were deployed for the work while police teams from Aishbagh, Ashoka Garden and Bazaria police stations were also deployed for safety issues. The efforts were made to raze the building were initiated as it was shaking. Nearby R R Hospital was also evacuated as a precautionary measure.
Firefighter Pankaj Yadav said that the building is under construction and is owned by a person named Imtiaz, who runs some firm in the area, and he was building extra floors on it and that the weight seemed to be the reason the building had started slowing caving in. He said that the building will be razed and for that experts have arrived from the administration. On the other hand, the residents were also advised to stay away from it and the area was cordoned of with barricades.