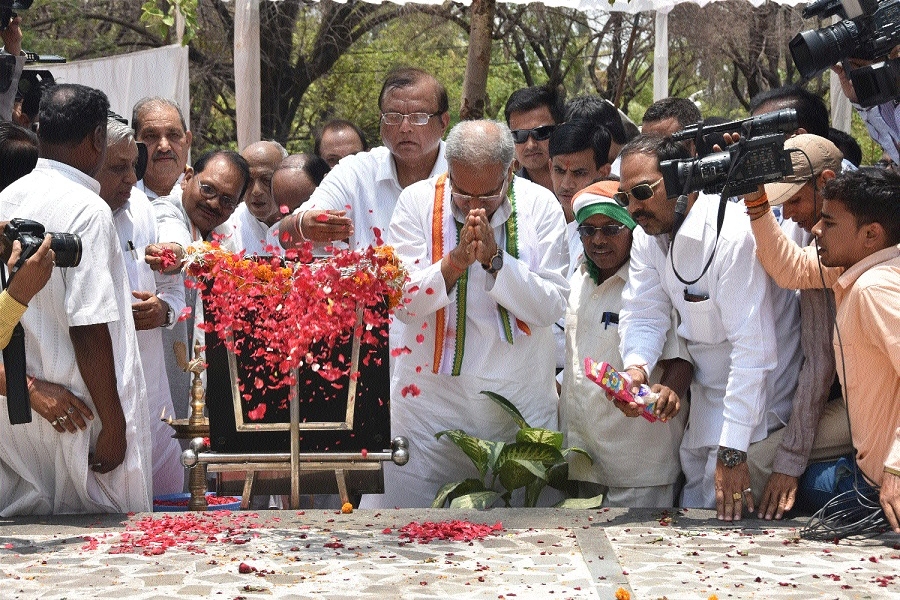 Staff Reporter
RAIPUR
The sixth death anniversary of veteran Congress leader and former Union Minister Vidya Charan Shukla was observed at Radheshyam Bhavan at Labhandi in Raipur city on Tuesday. Chief Minister Bhupesh Baghel paid tributes to former Union Minister Vidyacharan Shukla on his death anniversary. Baghel reached Radheshyam Bhavan at Labhandi and offered floral tributes on his 'Samadhi' and portrait of Vidya Charan Shukla.
Two-minute silence was also observed by the gathering to pay tribute to late Shukla. Speaking on the occasion, Chief Minister Baghel said that Vidya Charan Shukla had contributed a lot for the state that can never be forgotten. It may be noted that Vidya Charan Shukla was critically injured in a Maoist attack in Jhiram Ghati in Sukma district on May 25, 2013.
Shukla died during treatment at a private hospital in Gurgaon on June 11, 2013. Revenue Minister Jaisingh Agrawal, School Education Minister Dr Premsai Singh Tekam, MLAs Satyanarayan Sharma, Dhanendra Sahu, Vikas Upadhyay, Anita Sharma, Mayor of Raipur Municipal Corporation Pramod Dubey, Congress leaders Rajendra Tiwari and other party leaders were present.