Pak must take 'concrete action' against terrorism for peace talks: Modi tells Xi
To mark the establishment of 70 years of diplomatic relations, India and China will both hold 70 programmes, 35 in each country
PRIME Minister Narendra Modi on Thursday raised the issue of cross-border terrorism emanating from Pakistan during his talks with Chinese President Xi Jinping here and said India expects "concrete action" by Islamabad to create an atmosphere free of terror for the resumption of dialogue. Prime Minister Modi met President Xi on the sidelines of the Shanghai Cooperation Organisation (SCO) summit here and discussed the full spectrum of bilateral relations.
This is the first meeting between the two leaders after Modi's re-election following the stunning victory of the BJP in the general elections last month. The meeting also comes a month after the 1267 Al-Qaeda Sanctions Committee of the powerful UN Security Council designated Pakistan-based terror group Jaish-e-Mohammed chief Masood Azhar as a global terrorist after China, Pakistan's closest ally, lifted its technical hold on the proposal to blacklist him. "Had an extremely fruitful meeting with President Xi Jinping. Our talks included the full spectrum of India-China relations. We shall continue working together to improve economic and cultural ties between our nations," Modi tweeted after the delegation-level talks with President Xi. "On behalf of all Indians, I wish you a very happy birthday," Modi told Xi, greeting the Chinese leader who will turn 66 on June 15. "After our meeting in Wuhan, we have seen a new momentum and stability in our relations.
There has been a rapid progress in the strategic communication between the two sides, leading to be more sensitive towards each other's concerns and interests. And there has been new areas for further cooperation since then," Modi told Xi in his opening remarks. The 2018 Wuhan summit between Prime Minister Modi and President Xi was largely credited to have turned around the bilateral relations soured by the 73-day Doka La standoff, triggered by Chinese troops attempts to build a road close to Indian border in an area also claimed by Bhutan in 2017. After the Wuhan summit, both the countries stepped up efforts to improve relations on different spheres including the military-to-military ties. Briefing the reporters after the meeting, Foreign Secretary Vijay Gokhale said that there was a brief discussion on Pakistan during the talks between the two leaders. He said India has a consistent position with respect to Pakistan that it wants peaceful relations with Islamabad.
Gokhale said Prime Minister Modi told President Xi that he has made efforts to improve ties with Islamabad but these efforts have been "derailed". "Pakistan needs to create an atmosphere free of terror, but at this stage we do not see it happening. We expect Islamabad to take concrete action" to resume talks, Gokhale quoted the Prime Minister as telling President Xi. Modi's comments came ahead of President Xi's meeting with Pakistan Prime Minister Imran Khan, who is also here in the Kyrgyz capital to attend the SCO summit. To mark the establishment of 70 years of diplomatic relations, India and China will both hold 70 programmes, 35 in each country, Foreign Secretary Vijay Gokhale said. This was conveyed by Prime Minister Narendra Modi during his meeting with Chinese President Xi Jinping on the sidelines of the SCO summit in Bishkek.
"The Prime Minister proposed that there is a need to mark the occasion in a manner that reflects this new relationship to mark the 70th anniversary. He also said that India and China should hold 70 important events, that is 35 each in India and China. The two leaders have tasked their respective foreign ministers to discuss this matter at the second meeting of the high-level mechanism," Gokhale told reporters in a press briefing here. Khan has twice written to Prime Minister Modi, seeking resumption of dialogue on all issues, including Kashmir. Responding to Khan's overtures, Prime Minister Modi told his Pakistani counterpart that creating trust and an environment free of violence and terrorism was essential for fostering peace and prosperity in the region. India has not been engaging with Pakistan since an attack on the Air Force base at Pathankot in January of 2016 by a Pakistan-based terror group, maintaining that talks and terror cannot go together.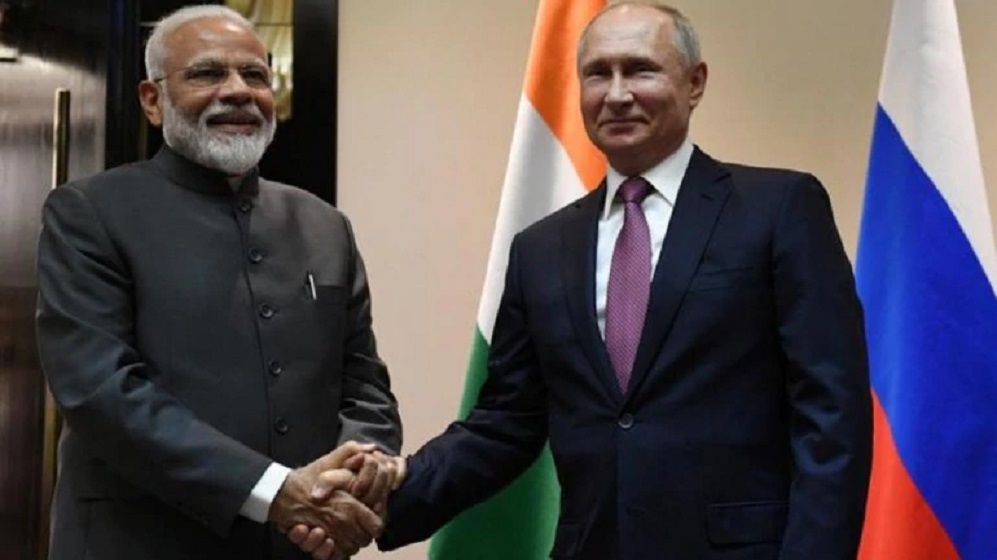 Modi, Putin review all aspects of ties to strengthen strategic relationships
President Putin has invited Modi formally to be the main guest at Eastern Economic Forum in Vladivostok, Russia, in early September
BISHKEK,
June 13
PRIME Minister Narendra Modi on Thursday met Russian President Vladimir Putin here and the two leaders reviewed all aspects of bilateral relations to further strengthen the bilateral strategic relationship. "A special partner, a privileged relationship! PM @narendramodi met with @KremlinRussia_E Vladimir Putin on the sidelines of #SCOSummit in #Bishkek. Reviewed all aspects of bilateral relations to further strengthen the strategic relationship," External Affairs Ministry (MEA) spokesperson Raveesh Kumar tweeted.
Modi arrived in the Kyrgyz capital on Thursday for the SCO summit, the first multilateral engagement post his re-election. The SCO is a China-led 8-member economic and security bloc with India and Pakistan being admitted to the grouping in 2017. India, Russia and China will hold a trilateral meeting on the sidelines of the G-20 Summit in Osaka in Japan later this month. "It is planned that there will be a Russia, India and China trilateral meeting on the sidelines of the G-20 Summit in Osaka, Japan," Foreign Secretary Vijay Gokhale told the media while briefing on the meeting between Modi and Putin.
"President Putin has invited Prime Minister Modi formally to be the main guest at Eastern Economic Forum in Vladivostok, Russia in early September, and Prime Minister Modi has warmly accepted the invitation. So, this will be a bilateral visit that Prime Minister will make and thereafter for the India-Russia annual bilateral summit," Gokhale said. Russia has also activated the first batch of orders of AK-203 Kalashnikov rifles, he said. Prime Minister Modi, President Putin and Chinese President Xi Jinping held a trilateral meeting, the second among the three countries after a gap of 12 years, on the sidelines of the G-20 summit in Buenos Aires in December during which they underscored the benefits of a multilateral trading system and an open world economy for global growth and prosperity. Earlier in October, President Putin travelled to India for the 19th India-Russia annual summit during which he held comprehensive discussions with Modi on wide-ranging bilateral, regional and international issues. Russia has been one of India's key suppliers of arms and ammunition.