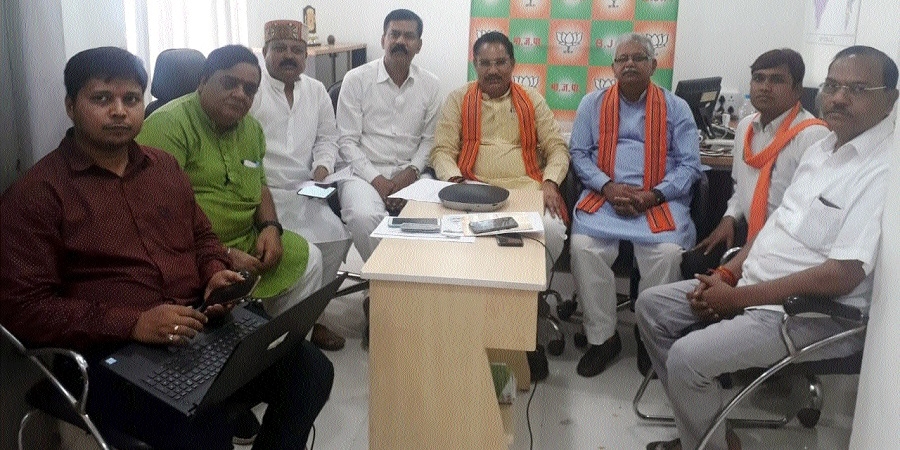 Staff Reporter;
RAIPUR
Newly-appointed Bharatiya Janata Party Working President Jagat Prakash Nadda conducted video conferencing meeting with all state BJP units on membership drives and future programmes on Wednesday. BJP National General Secretary (Organisation) Ram Lal, National Members In charge Shivraj Chauhan and BJP IT Cell National Convener Amit Malviya accompanied with the BJP National Working President. After the video conferencing, BJP State President Vikram Usendi held a meeting with all District Presidents through audio-conferencing and discussed future programmes with them. Accordingly, they were asked to take part aggressively in International Yoga Day programmes on June 21.
On June 22, a day-long dharna programme will be arranged in all district head-quarters to highlight the failures of incumbent Congress government and subsequently memorandums will be submitted to all District Collectors in the name of Governor.
On June 23, the martyrdom day of late Dr Shyama Prasad Mukherjee, will be observed as Balidaan Diwas. On the same day state level meeting of District Membership In-charges and Joint In charges will be held. During the video and audio conferencing, State President Vikram Usendi, BJP Legislative Party Leader Dharamlal Kaushik, Vice President Motilal Sahu, Spokesperson Srichand Sundrani and Sanjay Srivastava apart from Naveen Markande, former CSIDC President Chaggan Mundra as well as BJP IT Cell members.