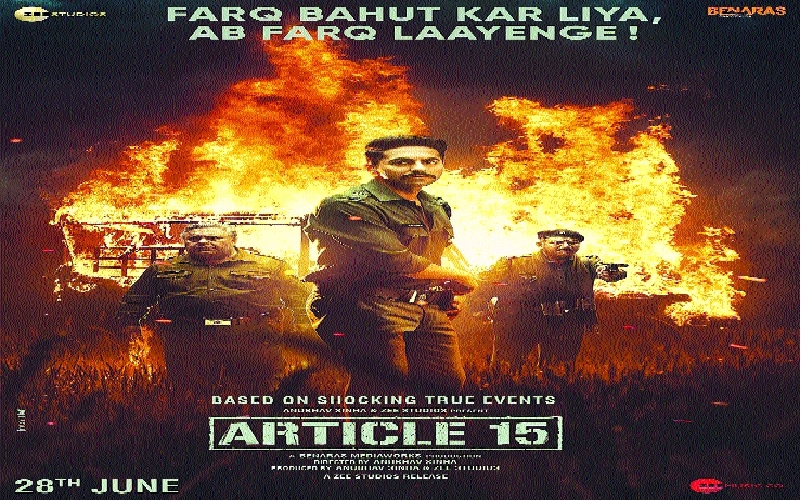 By Farina Salim Quraishi
Ayushmann Khurrana wasn't really exaggerating when he said Anubhav Sinha has discovered his true voice as a director after Mulk. After bringing alive the riveting courtroom drama about stigma and stereotypes in Mulk, Anubhav Sinha strides sure-footedly around a social subject one more time, taking up the issue of caste discrimination; by its horns no less. Strikingly real and stripped of usual Bollywood trappings, Article 15 stands true to the spirit of its eponymous provision in the Indian Constitution which prohibits the nation from discriminating against any citizen on the basis of religion, race, caste, sex, place of birth and others. Superbly balanced and light on the preaching, Article 15 doesn't pack in bombastic lessons or messages on the age-old issue of caste politics, but rather is just a reminder of disparities still existing in India of 2019; and a gentle one at that.
Starting off in the dusty little UP village of Laalgaon, Article 15 doesn't dilly dally much and quickly and effectively spells out the rules of the land regarding the caste system. IPS officer, Ayan Ranjan (Ayushmann Khurrana) - an ubercool city guy - is newly posted in the area and is pretty much oblivious to the society dynamics. He is more baffled than bemused at the unwritten dikats. His junior officer Bhramadatt (Manoj Pahwa), however, happily doubles up as an every-ready coach to help Ayan navigate the society hierarchy. Bhramadatt also goes the extra mile to ensure that Ayan doesn't get entangled in the local problems and doesn't rock the boat, err establishment, so to say.
But little goes as planned after Ayan, disgusted by the status quo, refuses to toe the line and throws all caution to winds when three girls go missing. The trio - Shanu, Mamta and Pooja - employed in a local factory are 'simply' missing with little else to show for the storm simmering quietly in the village. The storm soon becomes a bonafide
hurricane when two of the three girls are found hanging from a tree and the third is untraceable. Wading 'heart-first' into the complicated case which no cop seems interested in investigating, Ayan soon discovers shocking ground realities and comes face to face with the sheer magnitude of caste oppression.
The first thing that stands out in Article 15 is its elegant understatedness. Even with the horrors of caste bias and societal norms at its core, the film steers clear of cliches and rhetorics. Tackling the problem of prejudice and discrimination with a feather light touch, the director calls out several major incidences of atrocities rather clinically and makes poignant critique of the oppression prevalent in shocking magnitude. Moreover, though the focus is on community dynamics, the portrayal is nuanced and not in the least caricaturish.
Finding fleeting inspiration in the real life 2014 Badaun incident in Uttar Pradesh, writer-director Anubhav Sinha, along with his co-writer Gaurav Solanki, weave a saga that doesn't flinch while holding a mirror to the society and retains its Bollywood essence while it is at it. But not entirely in a bad way, mind you. Sinha skillfully builds up Article 15 as a crime thriller with the numerous twists and turns. Sinha creates a tense atmosphere from the start, doesn't let up on the grim and greys throughout the 130- minute tale, save for a few sequences here and there. Though the first half is slow on the built-up what with all the main players taking centerstage; the second half hurtles at breakneck speed, keeping viewers engaged throughout. Using words as efficiently as the gruesome visuals, Anubhav Sinha conveys a million emotions with his stark images. The cinematography by Ewan Mulligan is outstanding and his brilliant vistas stay with you a long time after the credits have rolled. The sequence of one man going into a sewer to manually unclog it and emerging soaked in the filth only to dive in again is especially hair-raising. Even the early portions of the crime scene are brutal and raw, with nary a sugar-coat!
The cast of the movie is perhaps the biggest strength of Article 15. Apart from Ayushmann Khurrana, Anubhav Sinha-regulars including Manoj Pahwa and Kumud Mishra, the undauntibale Sayani Gupta is simply splendid. Quietly powerful and uncannily perceptive, Sayani Gupta as Gaura packs quite a punch. Kumud Mishra as Jatav is at his subdued best and is wonderful as a cop caught in difficult choices! Manoj Pahwa in his layered role is outstanding! Frustratingly resolute and unyielding, Pahwa is disgustingly superb in his portrayal of the station officer with misplaced loyalties.
But the star of the show is undeniably, Ayushmann Khurrana! Fantastically understated and utterly relatable in his bafflement, Ayushmann plays Ayan with fabulous restraint. Be it his struggle with Hindi, or adjusting to India's hinterlands or even his incredulity over people's indifference, he brings alive each emotion and how! He sinks his teeth in the serious role and shines the strongest!
Equal parts compelling and poignant, Article 15 is a raw and gritty tale that needs to be seen to be believed. With a lot to take away from and a whole more to ponder upon, the film is definitely not for the weak-hearted. Go watch with an open mind and more importantly, an open heart!