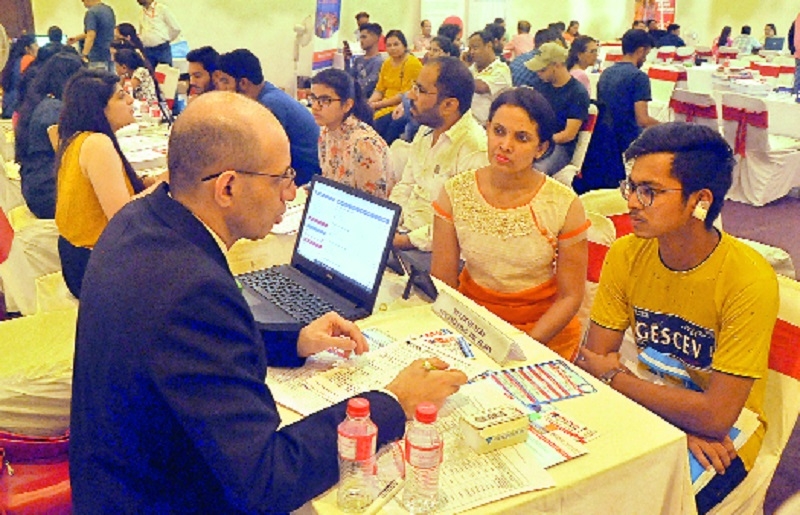 Business Bureau:
SUNDAY was a day full of exuberance and optimism at Krishna Consultants' Overseas Education Fair held at Chitnavis Centre, with an overwhelming response of more than 500 study abroad aspirants attending the fair. The fair aimed at the Fall 2019 and Spring 2020 intakes for various programmes at bachelors and master's levels. More than 51 university delegates representing 100+ top ranking universities from 10 countries across the world were present at the fair.
They guided and counselled the aspirants and the enquirers on a one-on-one basis. It was a proud moment for Pankaj Agrawal, the CEO of Krishna Consultants, who said, "We saw an overwhelming response for the event, and I believe this event has helped all the study abroad aspirants in gaining the essential info and getting all their queries resolved. The information they've received from this Overseas Education Fair will no doubt help them in making rational decisions enabling then to meet their aspirations of pursuing higher education overseas." All the university delegates were greatly impressed by the student footfall and the well-organised event. A few excerpts from the delegates: Puneet Malhotra, University of Northampton, UK, said "Well organised event, keep up the good work Krishna Consultants".
The students and parents were more than happy as they benefited from the first-hand information related to course options, admission criteria, entry requirements, programme benefits, internships, scholarship opportunities, job prospects, an overview about the visa processing and post study work visa options. Students were also given the information about the overall expenses and the possibility of availing end to end assistance for education loans through E'lan Overseas Education Loans a specialised wing of Krishna Consultants.
Students were also given an over-view on various standardised tests like GRE, GMAT, SAT, ACT, IELTS, TOEFL and PTE which are pre-requisites for admissions abroad. Students could avail special privileges like no service charges for admissions, free US application process, scholarships for eligible students, first-hand information and guidance by the university delegates and the best part was that students had a chance of saving up to Rs 3,24,302 on the application fees. Interested students also enrolled for GRE, GMAT, SAT, IELTS, TOEFL and PTE coaching available at Krishna Consultants and they availed special discounts for spot registrations. On the whole, the event was a grand success as the students could explore all the possibilities for education overseas based on their individual profile and preferences. The students who missed the opportunity of attending the fair can walk into Krishna Consultants IT Park office at Plot No 10/2, IT Park, Nagpur (Ph: 0712-2222061/62/63, 7722004113) or Sadar office at 1st Floor, Block No 112, Shriram Tower, Kingsway, Sadar (Ph: 0712-2529127, 8669670625) any weekday between 10 am to 7 pm or 10.30 am to 5 pm on Sundays at IT Park office only.