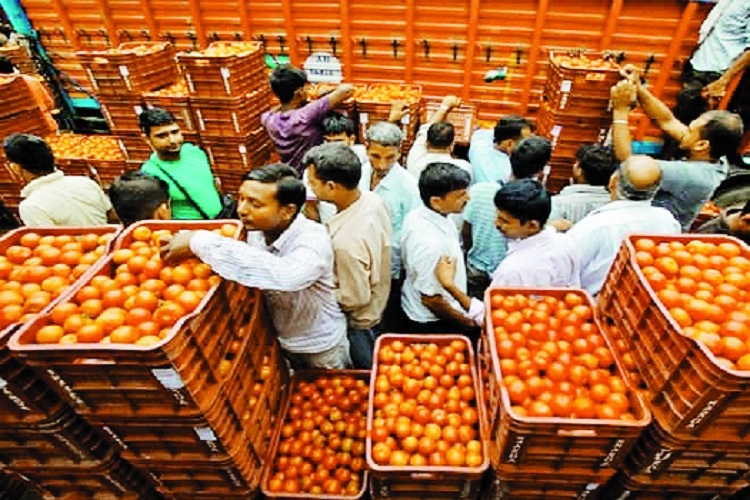 Business Bureau:
Raising temperature is not only giving tough time to people here but it is also spoiling their home budget as vegetable prices are flying high. Prices of most of the vegetables have surged significantly. For the past one month or so, the prices are going upwards every passing day as supply from local farmers dropped manifold. Prices of brinjal, lady finger, beans, capsicum and other vegetable are hovering at its peak level in the current season.
But it is tomatoes and green chillies prices that are burning deep hope in buyers pockets. About 15 days back tomatoes were sold at a price of Rs 15-20 per kg in wholesale price but on Sunday it touched the level of Rs 40 kg mark. Green chillies prices have also gone up from Rs 15-20 per kg to Rs 50 per kg in recent past. It is important to note that the city's requirement of tomatoes is estimated at about 10 trucks per day. But as of now arrival of the commodity is 3 to 4 trucks per day. Similar is the case with green chillies. Apart from this, being a marriage season, the demand for vegetable is 20 to 30 per cent more than normal period. Ram Mahajan, one of the leading vegetable dealers based in Cotton Market and office-bearer of the dealers' association, said prices were going up due to dip in supply.
"This is the time when we see prices of vegetables go up. It is very normal in summer when availability of green vegetable is affected. The situation will become further worrisome in next 15-20 days," he said. "Many farmers in the region avoid cultivation of green vegetables in summer and thus we are mainly dependent of farmers based in other regions. And whenever we get vegetables from far off places, the rates are on higher side," he explained. Mahajan told The Hitavada on Sunday that tomatoes were being supplied from farmers based in Sangamner, Bengaluru while green chillies were arriving here from Punjab and Delhi markets.