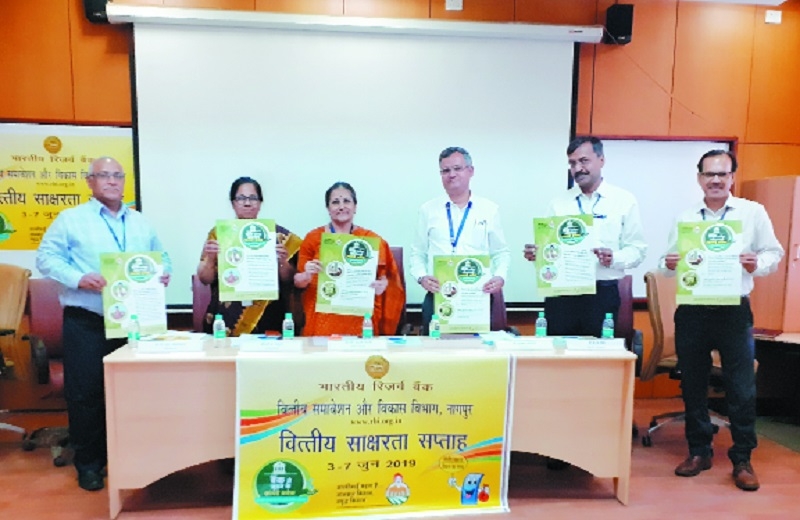 Business Bureau:
Highlighting the significance of farmers in the country's economy, Regional Director of Reserve Bank of India, Nagpur branch - Indrani Banerjee - said on Monday that the agriculturists should be brought into the main stream banking system. While inaugurating the 'Financial Literacy Week' being observed by the bank across the country between June 3 and 7, she also said that creating financial literacy among the farmers would pave the wave towards their prosperity. Banerjee further said that the farmers should get easy loan whenever they need it.
"This will bring an end to distress among the community and boost rural economy," she said adding the growth in agriculture is necessary for the overall economic growth and finance is an essential enabler for the same. She also highlighted that the bank has been communicating with large number of farmers in an attempt to make them aware of benefits of banking system.
To emphasize the importance of financial literacy, the Reserve Bank of India (RBI) has been observing 'Financial Literacy Week' across the country. The event has been focusing on "Farmers" as a target group with the primary theme how they benefit by being a part of the formal banking system. As a part of the event, all the branches of the bank have been displaying posters, on the theme messages in the local language in a prominent place inside the branch premises.
Further, all banks have been displaying the messages provided by Reserve Bank on their websites and ATM screens during the week. Rural bank branches also have been advised to conduct at least one financial literacy programme after business hours, during the period. Apart from this, in order to reach out to the targetted customers, the financial literacy counsellors too have been conducting programmes in remote areas.
The bank is closely monitoring the implementation of the activities by all stake holders. The financial literacy week is one of Reserve Bank's endeavor to reach out to the common man and to seek whole hearted co-operation from the banking fraternity and all other stake holders in making the event a grand success. In recent years, the bank has undertaken several initiatives to strengthen credit delivery mechanism and financial inclusion. In order to build awareness and disseminate financial literacy messages to the farming community, focused content in the form of posters and leaflets have been prepared for dissemination.