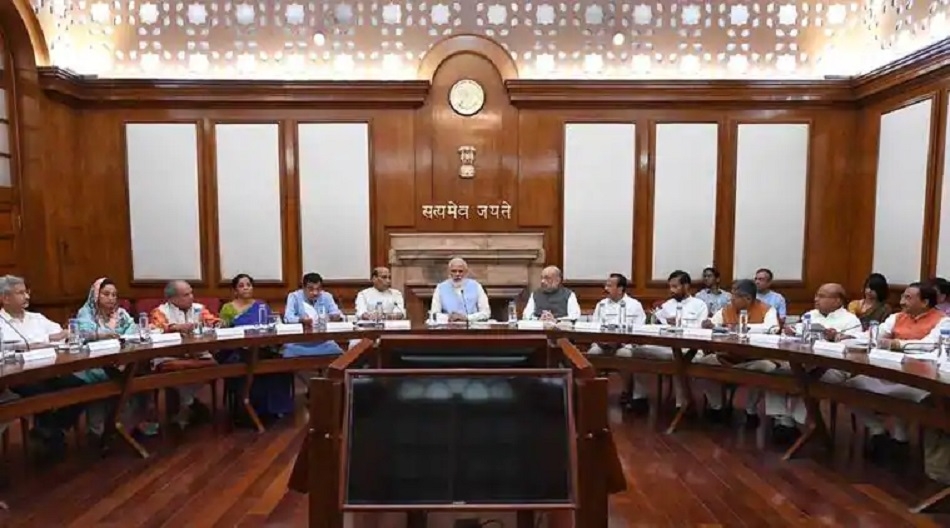 THE initiative of Prime Minister Mr. Narendra Modi to form two Cabinet Committees under his own chairmanship to promote growth and investment, and increase employment, needs to be appreciated. Realising what could be in store for the country in the face of a possible economic slowdown, Mr. Modi has taken this step to form the two highest-level panels that would look for ways and means to push the economy to better health in the coming years. That the new initiative will promote right action in the key areas is only one part of the story. The other and more worthy part is that Mr. Modi has refused to get sucked into a celebratory mood after his landslide victory in the recent Lok Sabha elections, but has thrown himself headlong into vigorous action mode.
This aspect is certainly welcome. Of course, there is good news, too, on the economic front. The World Bank has retained India's growth rate at a healthy 7.5 %, indicating that things are going all right for the country. In comparison, China's growth rate is slated to drop by a couple of decimals each fiscal for the next three years. No matter the current growth rate, India is likely to face an economic slowdown in the coming time and the Prime Minister appears to be getting ready to tackle the challenge. This is good news. For, when the Government anticipates a possible problem and gets ready to face it, then the drive it generates has a greater power than the normal times.
It is this drive that would help the Indian economy tide over a possible crisis. Parallely, experts are fearing that the United States of America, too, may get hit by recession by the next year and may find things difficult. When a strong economy like that of the United States is hit in this manner, the world also may face the fallout.
For those times, Mr. Modi appears to get the national economy ready. It is worthy of note that the global economy has been getting hit by recessionary trends every 10-12 years for the past some time. The last global recession came in 2007-8 and lingered on for at least four years, topsy-turveying the global economy beyond recognition. Whether the predicted recession would be such a gravity or not, is not being foreseen by experts. Yet, everybody agrees that tough times are ahead. This is, no doubt, a worrying sign, and the world will have to look for a correct collective response to the regular recessionary cycle. Limiting the thought-process to Indian situation, we must appreciate the formation of the two special committees under the Prime Minister's leadership.
There is no doubt that foreign or domestic investment in India has slowed down considerably, if not only to a trickle. Employment is also coming down slowly and steadily, creating the danger of having lakhs of people without gainful jobs. That empty force can be a killer, and needs to be tackled effectively. The new Cabinet Committee on employment will have to face the issue squarely and come out with ways and means to avoid recessionary impact on India's ability to provide jobs to whosoever needs those. That will be too idealistic to expect, yet a reasonable number of jobs will be needed to tame the slowdown monster, if at all it really arrives on our shore.
An early response, like the Cabinet Committee, will make a lot of positive difference. There is no doubt that the Ease-Of-Doing-Business quotient has gone up in India. Yet, much distance is to be traversed in that direction. Perhaps, absence of a good investment flow can be attributed to that factor as well. Perhaps, electoral politics might have affected investment to certain extent. That condition having changed, investment may start flowing into the country once again. We are sure, the Cabinet Committee will factor all these into preparing a comprehensive strategy.