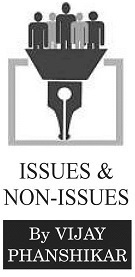 New Delhi, June 6 (PTI): External Affairs Minister S. Jaishankar, on Thursday, said that India would aim to enhance regional cooperation with the BIMSTEC grouping as there have been certain problems with SAARC.
Speaking at a seminar, Jaishankar also said that implementation of developmental projects in neighbourhood and elsewhere would be one of his key focus areas.
In his first public comments after taking over the External Affairs Ministry, Jaishankar also said, regional connectivity was going to be a key priority for India and BIMSTEC could be a key vehicle for economic prosperity and regional cooperation. ...
KNOWN for his clarity of thought and expression, Dr. S. Jaishankar, a career-diplomat and an intellectual of high order, has indicated a subtle shift in focus of foreign policy. His focus would be on completion of various developmental projects which India is sponsoring in the regional neighbourhood as well as elsewhere. Obviously, India would now look for stronger ties with the neighbourhood with a uni-directional thrust on completion of projects, no matter the specific response of other countries. Obviously, India is quite likely to play its Big-Brother role sans the negative suggestions involved in the meaning of the term. In the long run, this approach is most likely to help in building stronger bonds between India and the neighbours.
Addressing a gathering of Indian diplomats at a Foreign Policy Workshop some time ago, Dr. Jaishankar had talked of an altogether altruistic principle: Non-reciprocal assistance by India to other countries. In other words, this means a long-term investment in building a friendly neighbourhood, without any consumerist hurry about returns. In international realpolitik of today, such an approach may have its own importance in the long run.
This approach is diagonally opposed to the one the Chinese adopt. The Chinese often invest in a country with an eye on cornering the physical assets there and establishing a strong and long-term foothold from which the host country has no escape, or little choice to evade. For long, Indian approach has been different, with an intent of making a lasting contribution to the development of the other countries. Dr. S. Jaishankar's approach is not much different, except that he is consciously using the term "non-reciprocal" associations with neighbourhood countries. The altruism in this cannot be missed. In diplomatic parlance, this may mean an effort to build long-term relationships that are more likely to come to fruition in times of actual crunch. This is a subtle response to the Chinese expansionism through its policy of encirclement (of India, so to say).
In his speech at the Foreign Policy Workshop, Dr. Jaishankar also made a comparative analysis of the United States and China. The US was the only global superpower today and China was nowhere close, he said. He agreed that China was making strong efforts to make itself relevant in all dimensions of global affairs, but was still far behind the US. But then, by that standard, even India has grown in stature and cannot afford to sit on the sidelines as the world expects New Delhi to take a stand and get counted, Dr. Jaishankar had said.
With this perspective (honed by years of practical diplomacy), Dr. Jaishankar has now entered the topmost layer of decision-making in foreign policy. He has the personal wherewithal to impact India's foreign policy in a very profound manner, perhaps far more effectively than any other person. Under the umbrella of Prime Minister Mr. Narendra Modi who is far more oriented diplomatically than any of his predecessors, Dr. Jaishankar may prove to be very well suited to the new demands of international power-play.
One of the most obvious subtle shifts in India's foreign policy direction is in terms of greater attention to Bay of Bengal region, moving away from South Asian Association For Regional Cooperation (SAARC) where there were issues with Pakistan. India now thinks more positively about the Bay of Bengal region (whose leaders Mr. Modi had invited for the swearing-in ceremony on May 23, 2019). The BIMSTEC -- Bay of Bengal Initiative For Multi-Sectoral Technological and Economic Cooperation -- is the new thrust area for India. This keeps Pakistan out of the arena, and also keeps China at an arm's length. This shift is very meaningful for Indian diplomacy in the coming years. Dr. Jaishankar has explained it clearly that when India talks of 'neighbourhood first', it does not want to talk of other areas as second in priority. It only means that India will have parallel priorities that spread wherever Indian interests lay.
In all these initiatives, Dr. Jaishankar is slated to play a major role as a knowledgeable Minister of External Affairs. Personally, the elevation may require him to master the details from another angle. But he has proved himself to be a past master in the art of details-management, and he may move into the new role seamlessly.
There is little doubt that diplomacy is going to be an exciting area in the next five years. For, the nation will have a combination of two men -- Mr. Narendra Modi and Dr. S. Jaishankar -- who will move with a lot of missionary zest and visionary purpose into diplomatic endeavours. For Mr. Modi, it will be an extension and consolidation of whatever he achieved in his first term. For Dr. Jaishankar, it will be a refreshed opportunity to operate new matrices of Indian interests.
True, as an emerging Asian power with global outreach, India's role will be crucial in the new world. Fortunately, India has everything -- mechanics and dynamics -- to achieve the avowed goals.