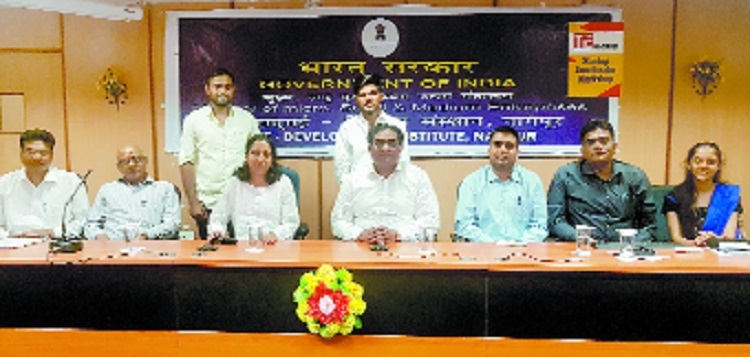 Business Bureau:
Ministry of Micro, Small & Medium Enterprises - Development Institute Nagpur and TiE Nagpur recently conducted 'Startup Accelerator Workshop' here with an objective of making people aware of various Government schemes and funds. Nidhi Bawashe, Executive Director, inaugurated the session. In his address, P M Parlewar- Director, MSME - DI, appealed to the participants to avail various Government schemes to scale up businesses.
He also shared many examples of how Micro, Small & Medium Enterprises is supporting the micro, small and medium enterprises in setting and scaling up their businesses and how the enterprise is promoting international and domestic trade fairs schemes, MSCDP schemes and devoted towards the development of MSMEs, guidance and support. Manish Jha – Investigator and Rahul Mishra- Assistant Director discussed various schemes that MSMEs and startups can take benefits in the technical session held in the workshop. The speakers also focused on Udyog Aadhar memorandum, Lean scheme, public procurement policy, incubation provided by Micro, Small & Medium Enterprises discussed on Intellectual Property Right and on ease of doing business.
On the occasion, Lahu Kalkar, promoter of a startup, shared his journey from labour in a garment factory to owner of his own garment manufacturing unit and the benefit he took from MSME under KVIC scheme. Sumit Chanekar, Founder of 'Pench', has discussed about the 'Mudra Loan' and with the help of MSME Udyog Aadhar how he got all funding from banks.
Bhawana Chittawar shared her SEEtech and FinEffi journey and highlighted the support of MSME, MIDC she is was getting for the last 20 years. Nidhi Bawashe proposed the vote of thanks. TiE Nagpur associate members – Saroj Panda, Bhavna Chittawar were also present. Representatives of various industries, professionals, budding entrepreneurs and others attended the session.