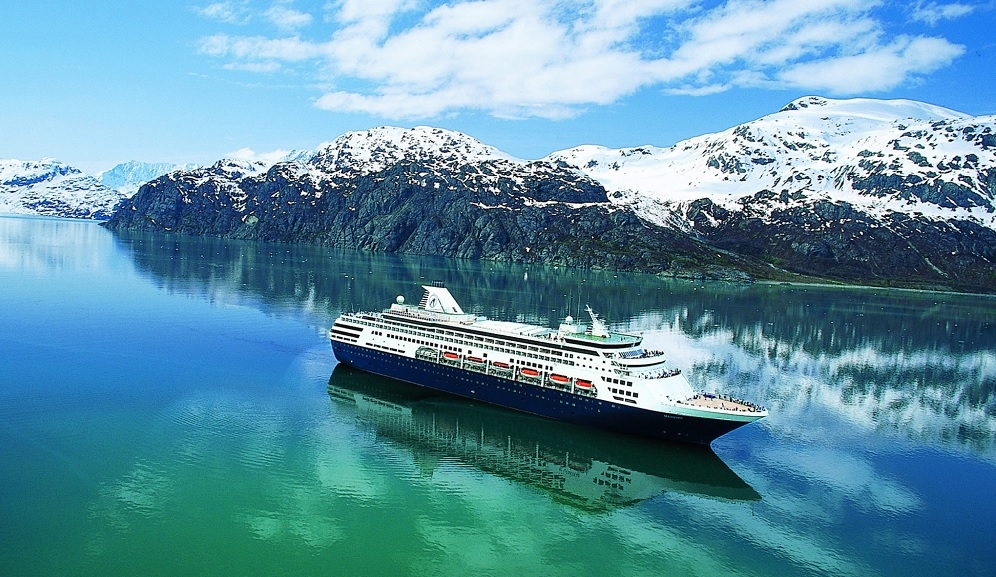 By ARUN KUMAR:
Heaven on Earth!! Well just like Kashmir is to India, Alaska is to US. This largest and most sparsely populated U.S. state is known for its diverse terrain of open spaces, massive glaciers, icy fjords, snow covered mountains and forests, with abundant and captivating wildlife and many small towns. Also massive Denali National Park is home to Denali, North America's highest peak. It's also a destination for outdoor activities like whale watching, dog sledding, skiing, mountain biking and kayaking.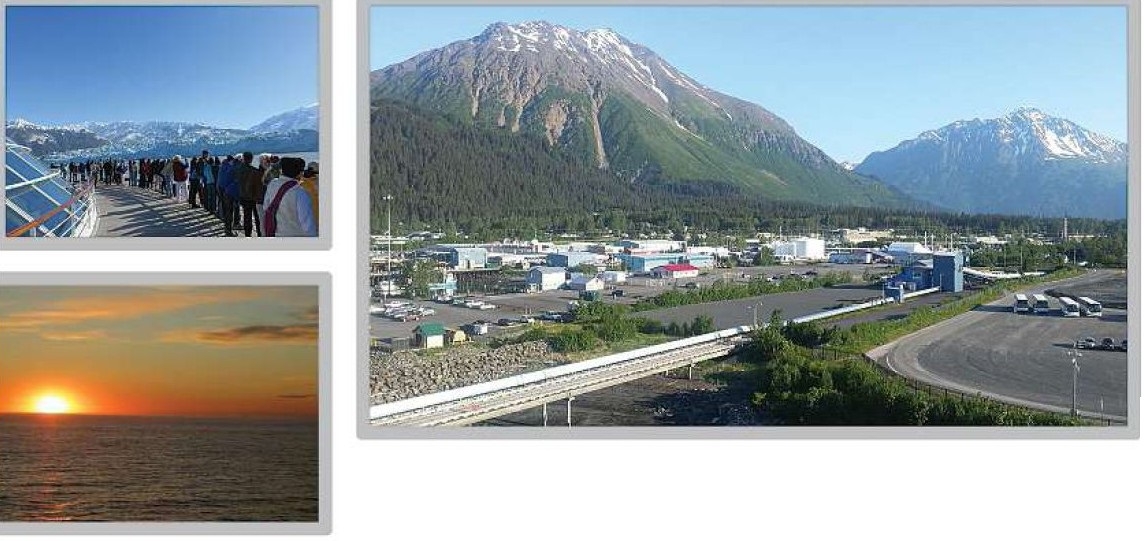 In order to venture Alaska, tourists have 3 options: 1. First, the Rocky Mountain road from Alberta, Canada to Alaska which offers tourists a jaw-dropping scenery, frequent wildlife sightings and historic communities.The route follows the Canadian Rockies, starting in Calgary upto Kachemak Bay spanning about 3756 kms. 2. Second, the Gold Rush route which has captivated travellers since 1896 when the precious metal Gold was first found in the Klondike River, Yukon Territory. This road route of 3255 kms takes visitors from Vancouver, Canada to Anchorage on a wild ride through history showing various towns, areas where panning for gold is not even a day's work. 3. But the third or best route is Cruising quietly along the shores of Alaska's Inside Passage.
This route is ideal for those who want to get on and off the ferry when they please, staying for a few hours or several days in each port of call. So why CRUISE through Inside Passage? Inside the massive cruises, one can relax and enjoy the ambience of Pacific Ocean for the entire journey period, while also venturing and enjoying various places during daytime at the port of call (stoppage of cruise). Here's just a few other reasons also - The Alaskan inside passage is a waterway nestled within islands along the Pacific coast, which has been formed by massive glaciers. Because of its location and the serene nature, it is an ideal holiday for people who want to sail through still waters. From British Columbia into Skagway, the inside passage gives spectacular views of snowcapped mountains, calving glaciers, rainforests and small towns. Apart from the picturesque coastlines there are numerous animalsthat reside and is home to breaching humpback and orca whales, playful porpoises and roaring sea lions.
While on the land one can go for larger than life caribou, grizzly bears, and majestic bald eagles sightings. Old culture and fascinating pasts can be seen in towns of Alaska. Juneau, Skagway and Ketchikan which hosts the largest collection of totem poles in the world! The long daylight hours during summertime in Alaska gives one ample time for spending up to 10-12 hours at these port of calls. One can see the incredible Alaska sunsets by himself from the cruise, normally after 10 pm. The dazzling colours blending across the sky like a watercolor painting. Also if one visits in late April or mid-September, there are chances of catching a glimpse of phenomenal Northern Lights! Aurora Borealis. If the Cruising is from April to early May, then the cruises near Seward can bring one close to California Grey Whales as they migrate north from the Baja Coast of Mexico. Numerous Cruises ply during summer in the Inside passage with categories from 3 star to 7 star. Depending upon the time, period and category one can choose the cruises to suit their requirement. A popular website - Vacations to Go, gives a very good comparison and discounts also.
The cruise I preferred was The Norwegian Sun, starting from Vancouver in Canada to Seward, Alaska for 7 days with port of call at Ketchikan, Juneau, Skagway, Glacier bay, Hubbard glacier and Seward. This 5 star cruise is a class of its own, having 12 floors with a facility of 1100 cabins to accommodate 2000 passengers.Acrew of 900 took care of everyone's needs for 7 days. With variety of food available for free all day long and entertainment round the clock is an experience to cherish for. Still trying to come out of those cherished moments of seven days. Ketchikan - City of Totems is also known as 'The Salmon Capital of the World'. Though Ketchikan is small (just over 8,000 residents), it's the fourth biggest city in Alaska. A walkable town, one can notice many of the city's streets are actually steep wooden staircasesleading to homes built into the slopes.
The tribal culture of Alaska has been preserved at their Saxman Native Village & Totem Pole Park.Atour of same is just fascinating. Totem poles are huge wooden carvings made from the stem of single tree depicting various stories of the tribal Alaskans. For Salmon fishes, one does not have to go far and can see the famous fish swimming upstream under the Creek Street boardwalk. Juneau -Reachable only by boat or seaplane is the capital city of Alaska with a population of about 40,000. It's an outdoor enthusiast's paradise, a shopper's trove and a food lover's dream. After roaming around in town for some photo stops and shopping, we had a wonderful time of watching killer whales and hump-back whales through a high speed boat.
Later canoeing across Mendenhall Lake we approached the face of the majestic Mendenhall Glacier. Awesome view. Also nearby one will be treated to stunning views of Nugget Falls and the surrounding area. All these excursions are guided tours where the guide gives interesting information about the whales, the formation of the lake and the recession of the glacier. Further, one can also take the Mount Roberts Tramway on a journey 1,800 feet above Juneau where views of the rain forest, town, and waterway are second to none. On top one can spend an hour or two where you can hike, shop, eat, visit the bald eagle display and watch an informative film about the native Tlingit people.
Skagway - In 1897, over 100,000 would-be-miners and dreamers travelled from all over the world and stampeded into Alaska on their way to the Klondike Valley to find their riches during the Klondike Gold Rush. Many of those prospectors came through Skagway where some folks chose to stay behind. Today, the population of Skagway is around 920 residents who handle over 900,000 visitors each year. The small town which looks like a Hollywood movie set of about 100 buildings from the gold rush era attracts tourists who stroll along the boardwalks, window shop, and admire the town's beauty. One can also take the White Pass & Yukon Scenic Railway that gives a good overall history of Skagway. The trip takes one past glacial rivers, waterfalls, and gorges for a real taste of wild Alaska, as it climbs 3,000 feet to scenic vistas.
On the way one can getalook at the headwaters of the famous Yukon River. Another adventure that can be tried is Dog sledding on a glacier which is the Official State Sport of Alaska now. One can takeacopter ride up to the Denver glacier, where Alaskan Sled Dogs will greet you energetically, ready to take you on the ride of your life. Seward - The last port of call for our cruise isasmall coastal town known for its scenic views, numerous visitor attractions, and as the gateway to Kenai Fjords National Park. This town is the southern terminus of the Alaska Railroad. Before reaching Seward, our cruise went near one of the biggest and most beautiful Hubbard Glacier for the most spectacular view of Glacier. During the 3 hour stay, we could see the effect of light in the Glacier. Due to its crystalline formation, the BLUE colour gives a Gem effect. Also, we could observe the erosion of Glaciers due to Global Warming - Slowly the Ice Boulders were cracking, falling and melting.
Anchorage - 170 miles north of Seward, one can drive through beautiful scenery to Anchorage, the largest city with a population of 3 lacs, 50% of Alaska's. Anchorage has grown steadily to become the business, cultural and distribution center of Alaska. One can visit the Museum of History and Fine Art, the Alaska Zoo and the Alaska Native Heritage Center. The town is also home to the largest float or sea plane base in the world. Due to non-availability of roads to nearby places, this city has a fleet of 2-3 seater planes being used by the natives with facility of landing on water, roads, fields as well asice. One can also visit Denali National park from here which is six million acres of wild land, bisected by one road. Travelers along the road can see the low-elevation taiga forest and snowy mountains, culminating in North America's tallest peak, Denali. All along the road, wild animalslarge and smallroam un-fenced and one can enjoy their sighting. Remember, winter clothes are a must even in summers in Alaska and of-course the US visa.