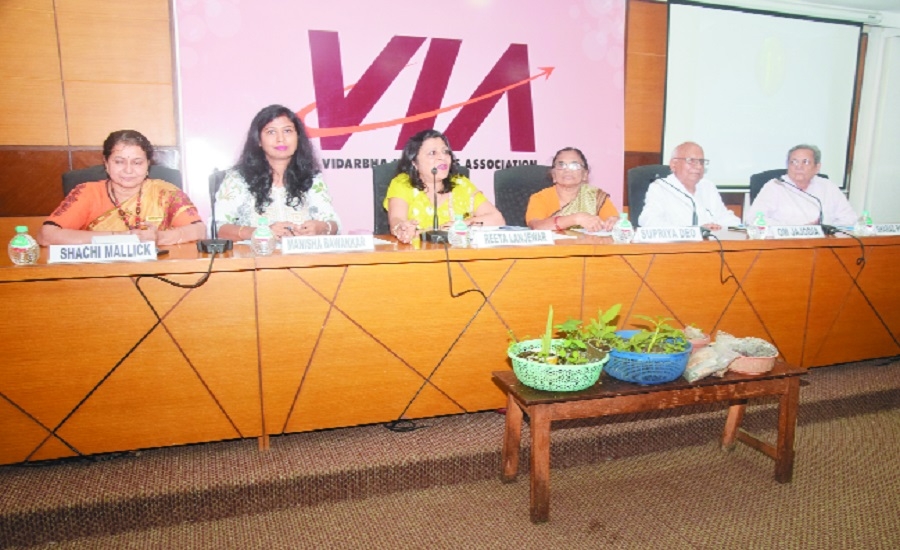 Business Bureau:
Taking into account the scarcity of water in many cities across the globe, the Vidarbha Industries Association (VIA) on Monday conducted a seminar wherein experts motivated the participants to conserve rain water harvesting and develop organic terrace garden. The keynote speakers - Supriya Deo, Retired from Dharampeth Science College and Sharad Paliwal, President, Nagpur Garden Club, said rain water conservation and organic terrace garden are the need of the hour. The seminar was organised by the VIA Lady Entrepreneurs Wing in association with VIA Agro & Rural Development Forum.
On the occasion, Supriya Deo said that she learnt slowly and steadily how to develop an organic terrace garden. She joined various groups and surfed internet to clear her doubts on the subject. She informed the gathering that she eventually learnt a lot about plants by citing the example that Spinach and Genda are good companions. After her retirement, she started growing vegetables and medicinal plants on her building terrace. She recommended planting medicinal plants in pots and said that six hours of sunlight is sufficient for good growth of the plants.
She went on to explain in detail how to grow plants by using seed, stem, layering etc. She also told the method of preparing fertile soil to reap good yield. Amrit mitti / soil can be prepared by mixing vermicompost, cow dung, garden soil and dried leaves. For protecting the plants from insects, she explained the method of preparing 'Amrut jal' which can be sprinkled on the plants. Fresh cow dung, cow urine (Gomutra), Jaggery (Gud) and gramflour (besan) along with water are the main ingredients used to prepare 'Amrut jal'. It is processed and used after diluting.
This was followed by a talk by Sharad Paliwal, President of Nagpur Garden Club. At the outset, he explained the concept of organic kitchen garden and also spoke about its layout and planning. He shared detail information on ground preparation, pot / container preparation, Soil mix, container size, different type of vegetables suitable for different seasons, sowing method, intercropping operations, and simple household formulations. Later on, Paliwal stressed on the importance of rain water harvesting. He mentioned that only 4 per cent water is potable / consumable water. "We really need to use water carefully as it is a scarce resource," he said.
Having informed the necessity of rain water harvesting, he shared the ways of doing it. He also explained in details the ways of recharging dug wells and bore wells using rain water. He also explained the way of constructing sumps for water storage. At the outset, Reeta Lanjewar, Chairperson, VIA LEW gave the opening remarks and welcomed Supriya Deo while Om Jajodia, Chairman of VIA Agro & Rural Development Forum welcomed Sharad Paliwal with floral bouquets. Shachi Mallick, Convener of VIA Agro & Rural Development Forum, conducted the proceedings of the event while Manisha Bawankar, Secretary, VIA LEW, proposed the vote of the thanks. Prominently present were VIA LEW executive members including Madhubala Singh, Chitra Parate, Y Ramani, Anjali Gupta, Vandana Sharma, Indu Kshirsagar, Poonam Lala, Shikha Khare and Mitali Rafique. In addition, Dr Arti Shanvare, Maharashtra State Biodiversity Board, Supriya Kekatpure, Suman Dad, Samidha Nagulkar, Smita Parmar, Shubhangi Pise and others were also present on the occasion. Large number of entrepreneurs, students and housewives also attended the event.