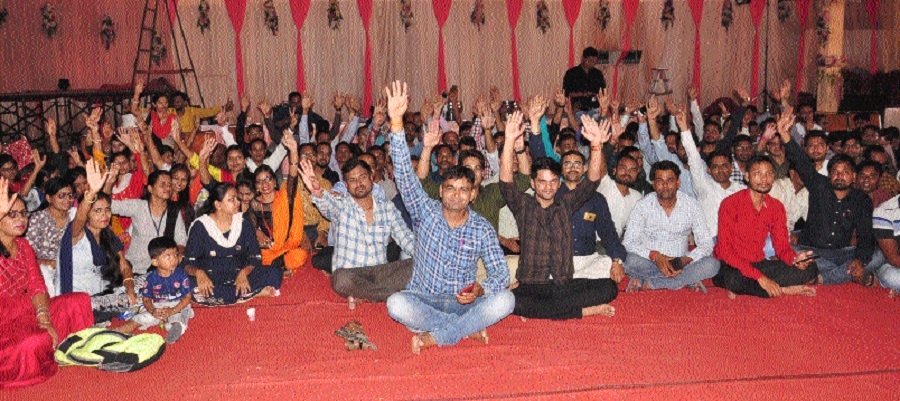 Staff Reporter:
Raipur
The specific objectives of the centrally sponsored scheme of Vocationalisation of secondary and higher secondary education seems to have suffered a major setback in Chhattisgarh due to alleged apathy of the state government. Vocational teachers appointed in 546 government schools across the state took to the street in protest against the harassment being meted out to them by their employers and subsequently state government's callousness to sort-out the issue. Navin Vyavsaik Shikshak Sangh president, Vinay Harvansh and Rupendra Tiwari told 'The Hitavada' that there are 1,092 vocational teachers posted at 546 schools across the state under Skill India Development programme.
This programme comes under the Rashtriya Madhyamik Shiksha Aahiyan (RMSA). They said that the vocations teachers have been rendering their service for last five years without job security, salary hike and any other facilities. Moreover, earlier Vocational subjects, which is taught to students of Class IX to Class XII, used to be considered as main subject and their marks be mentioned in the mark sheet. Now, the government has decided not to mention the mark in the mark sheet of students while making it optional subject. In such circumstances, the objectives of the programme would never be fulfilled, said concerned Harvansh and Tiwari.
"Instead of giving hike, the private companies appointed the vocational teachers on contractual basis reduced the salary. On the other hand, state government, instead of taking action, remains a mute spectator," said Harvansh. As many as 184 vocational teachers (IT) had turned up for a training programme arranged by the RMSA at Shagun Farmhouse on VIP Road in Raipur on Sunday. These teachers under the banner of Vyavsaik Shikshak Sangh staged a demonstration at the farmhouse instead of undergoing training. RMSA officials were also present for imparting training to the vocation teachers, said Tiwari. Further, Harvansh said that their main demand is job security, maternity leave for female vocational teachers, medical facility and increment of salary. "We have submitted memorandum to the RMSA Managing Director P Dayanand thrice in the recent past, but none of our memorandum was heard," alleged Harvansh.
AISECT, Indus, Empower, Centem, II&Fs, Laks, Bable, Gramtarang, Skill Tree, Orien etc. are the companies appointed vocational teachers for the state government schools under Skill India programme, said Harvansh. He alleged that the vocational teachers are When contacted, RMSA Managing Director P Dayanand said that the companies engaged in outsourcing the vocational teachers are timely paid as per decided salary structure. "If there is any individual issue and teachers are facing harassment, I would enquire and take necessary action," said MD P Dayanand. Box-1\ \Objectives of the scheme To enhance the employability of youth through demand driven competency based modular vocational courses, maintain their competitiveness through provisions of multi-entry multi-exit learning opportunities and vertical mobility/interchangeability in qualifications, fill the gap between educated and employable and reduce the dropout rate at the secondary level.
Box-2\ \Components of the scheme The components of the scheme include introduction of vocational education in government schools from Class IX, capacity building of existing vocational education teachers through in-service training and induction training for new vocational education teachers, development of competency based modules for each individual vocational course, performance linked incentive to government aided and recognized, unaided private schools.