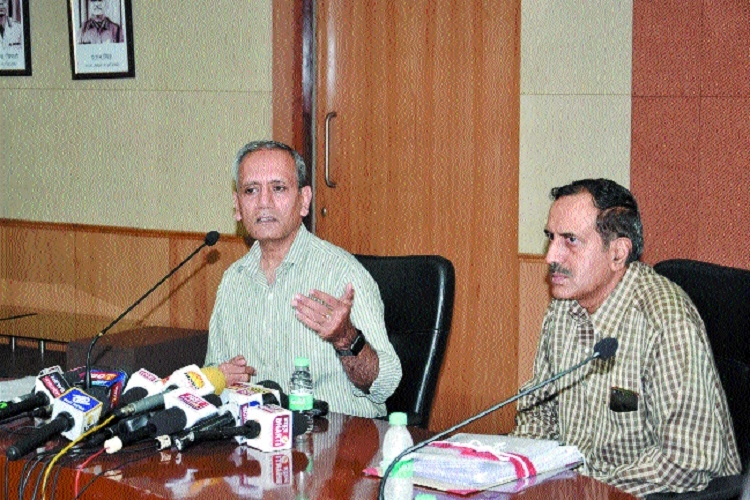 Staff Reporter:
Police eliminated two Naxalites, including a 19-year-old woman, in an encounter in Nevarwahi village of Lanji Police Station area in Balaghat. The encounter took place late on Tuesday night and around three other Naxalite managed to escape. Hunt is on to smoke them out. Naxalites killed were wanted in various crimes. Maharashtra, Madhya Pradesh and Chhattisgarh have declared a cash reward of Rs 14 lakh on each of the two deceased Naxalite hailing from Tanda Dalam.
Addressing the press conference at Police Headquarters, Director General of Police V K Singh told that encounter of two Naxalites in Balaghat is a major success of Madhya Pradesh Police and jawans involved in the encounter will be duly rewarded. He told that deceased Naxalites have been identified as Ashok alias Mangesh (21) and woman Naxalite Nande (19). Both were Area Committee members and were connected with Tanda Dalam.
There operation against Naxalites was done on the basis of information that some of them are going to do meeting at the house of Premlal Tekam in Nevarwahi village situated in the limits of Lanji Police Station. Acting on the information, 17 jawans of Hawk Force rushed to the spot along with Balaghat SP, SDOP Lanji and SHO Lanji. At the start of operation, jawans were sent in civil clothes and they confirmed the presence of armed Naxalites. After encircling the house, police asked Naxalites to surrender but they resorted to indiscriminate firing. In retaliation, three jawans of Hawk Force also opened fire. In the gun battle, two Naxalites, including Ashok alias Manga (21) and woman Nande (19), sustained bullet injuries and succumbed to them.
Ashok was resident of Rajnandgaon district in Chhattisgarh. He was a member of Tanda Area Committee. Woman Naxalite Nande was resident of Bastar in Chhattisgarh. She was member of Tanda Area Committee. One SLR, 3 magazine, 2 wireless sets, mobile charger, torch, calculator, bag, cash Rs 1070, two diaries were found from the possession of Naxalite Ashok. Meanwhile, 315 bore rifle, 13 cartridges, knife, pen etc were found from the possession of deceased woman Naxalite Nande.
Both deceased were active in Chhattisgarh, Maharashtra and Balaghat. Madhya Pradesh, Maharashtra and Chhattisgarh have declared cash reward of Rs 3 lakh, Rs 6 lakh and Rs 5 lakh respectively on the head of Naxalite Ashok owing to his involvement in various serious crimes. Overall, Rs 14 lakh reward was declared by all three states on the head of Ashok. Likewise, Nande was also carrying a cash reward on her head. Madhya Pradesh had declared cash reward of Rs 3 lakh followed by Rs 6 lakh by Maharashtra and Rs 5 lakh by Chhattisgarh. DGP V K Singh said that information about both deceased Naxalites would be also gathered from surrendered Naxals. He also told that Naxalites are trying to increase their footprint in Dindori and Amarkantak. Police in Balaghat has been put on alert as there is possibility that Naxalites may try to avenge the incident.