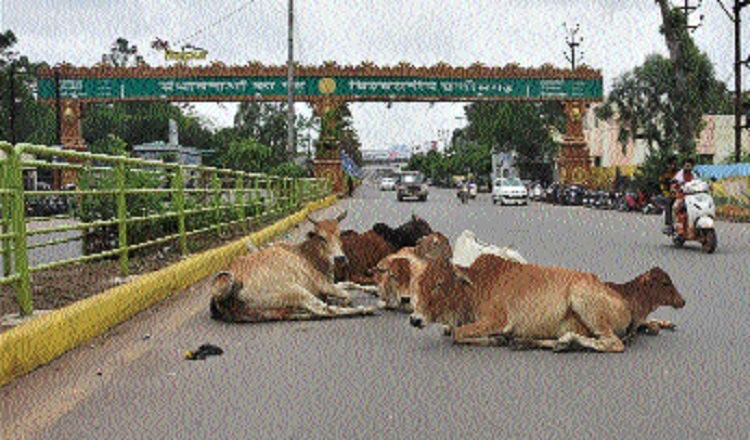 Staff Reporter
RAIPUR
To check road fatalities, Raipur Traffic Police have recently carried out a survey, wherein it identified as many as 19 Black Spots (accident prone spots) on National Highways (NHs) passing from the district as well as other roads
Raipur Traffic Police have initiated extensive efforts to curb flaws on roads and undertook requisite modifications at identified 'Black Spots' (accident prone spots) across the district. In its mission to check road fatalities, Raipur Traffic Police has recently carried out a survey, wherein it identified as many as 19 Black Spots (accident prone spots) on National Highways (NHs) passing from the district as well as other roads. Besides traffic cops, experts and officials of other departments also spotted several faults on roads leading to accidents and chock-o-block like situation.
During recently conducted survey, 'Black Spots' and faults were identified on NH-30, NH-53, NH-130B and other roads, Deputy Superintendent of Police (Traffic) Satish Thakur told 'The Hitavada'. "To prevent loss of lives in road accidents, Raipur Traffic Police has already started efforts for making necessary modification at identified black spots. Moreover, steps have also been taken to eliminate flaws spotted during the survey. Proposal regarding improvement at specific points of several roads have been forwarded to concerned departments including National Highway Authority of India (NHAI) and Public Work Department (PWD). Departments have also expressed its consent for undertaking improvement within one month," said Deputy Superintendent of Police (Traffic) Satish Thakur.
Black Spots identified on NH-30 are Vyas Talab tri-square to Veenu Petrol Pump; Metal Park turn to Dhaneli Nullha; Bhanpuri tri-square to traffic police station; Mana turn to Shankaracharya Ashram, Shadani Darbar to Dhaneli turn; Gadariya Nullha near Bemta and village Sankra under Tilda-Neora police station and area close to Nimora chowk under Rakhi police station. Black Spots on NH-53 are toll plaza on Ring Road-1 to Raipura over-bridge, Jora bridge, Pachpedinaka, between Tatibandh square and Sarona over-bridge, Mahatma Gandhi setu (Mahanadi Paragaon), from Pintu Dhaba to Serikhedi over-bridge, Jindal turn to Ring Road-3 tri-square and bus stand square in Mandirhasaud. Bangoli in kharora police limits on NH-130B has been identified as Black Spot.
Black Spots identified on other roads within the city are area close to Singhaniya Chowk and Mittle weighbridge to Sarona. DSP Thakur further informed that flaws leading to accident spotted during the recently conducted survey includes improper marking on roads, absence of speed-breaker on service lane, inadequate number of traffic cops, rash driving, lack of signage, absence of dividers, improper lighting arrangement, pressure on roads due to carrier vehicles, dilapidated condition of roads, drunken driving, driving on wrong side of road, roadside encroachment, unauthorized parking on roadside, stray cattle on road and others. Traffic personnel are taking series of steps to eliminate these flaws. As many as 60 persons were killed in 78 accidents took place at Black Spots on NH-53 between 2016 and 2018 while 52 people lost their lives in 79 accidents reported on NH-30, eight deaths in 10 accidents on NH-130B and 18 lives were lost in 32 accidents at Black Spots on other roads.