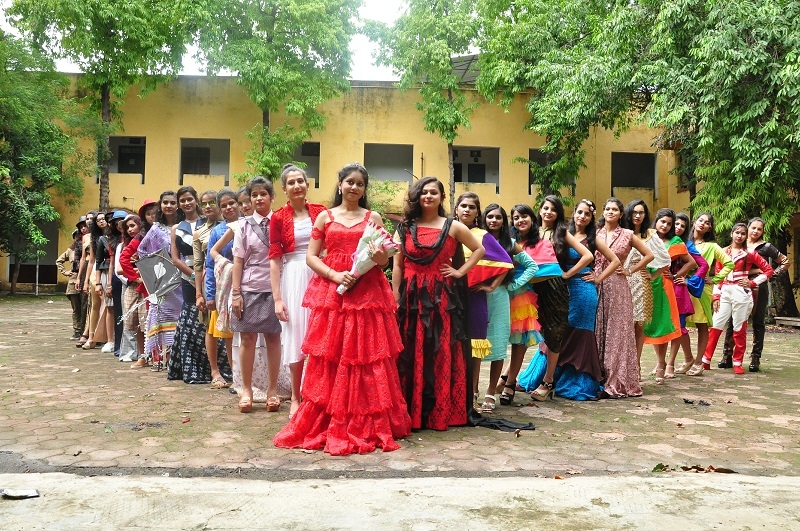 Staff Reporter:
fashion show Stylo Splash-Fashion Collection 2019 was staged by students of Department of Fashion Design, Government Women's Polytechnic College, on Tuesday. In the group show designs of over 15 budding fashion designers were showcased. Mayor Dr Swati Godbole was chief guest, while Devvrath Mishra, General Manager, District Trade and Industry Centre, presided over the programme. Jhuma Mukherjee, Chairman, Pinkpulp Foundation, was special guest.
Jury members of the contest were Jhuma Mukherjee, M H Home Science College, Professor Nandita Sarkar who has given assessment on work of participants. Mayor Dr Swati Godbole appreciated the work presented by students and said that with limited resources students have created valuable designs and if presented at national level would sure be like by readymade and fashion industry. Principal V P Gupta says the three year course of Fashion Design makes every student skilled that they can establish their own employment and wishes success in their future endeavours.
Dr Neelam Agrawal, Teacher, Savita Tiwari, Meena Gupta, Harvansh Tripathi, Shashi Vishwakarma, Mahipal Singh Rajput, Ravikant Jain, Sneha Jat, Reshma Sahu, Meghna Sharma gave guidance to students in developing this show. Students who showcased their designs includes Anukriti Tiwari, Ayushi Gupta, Deepa Shrivastava, Deepali Patel, Divya, Isha Yadav, Khusbu Khatri, Neha Khatri, Pooja Gupta, Rakhi Patel, Riturani Vishwakarma, Roshni, Yadav, Sudipta Sharma, Tripti Khatri and Puthak Kori have developed designs and presented in this show.