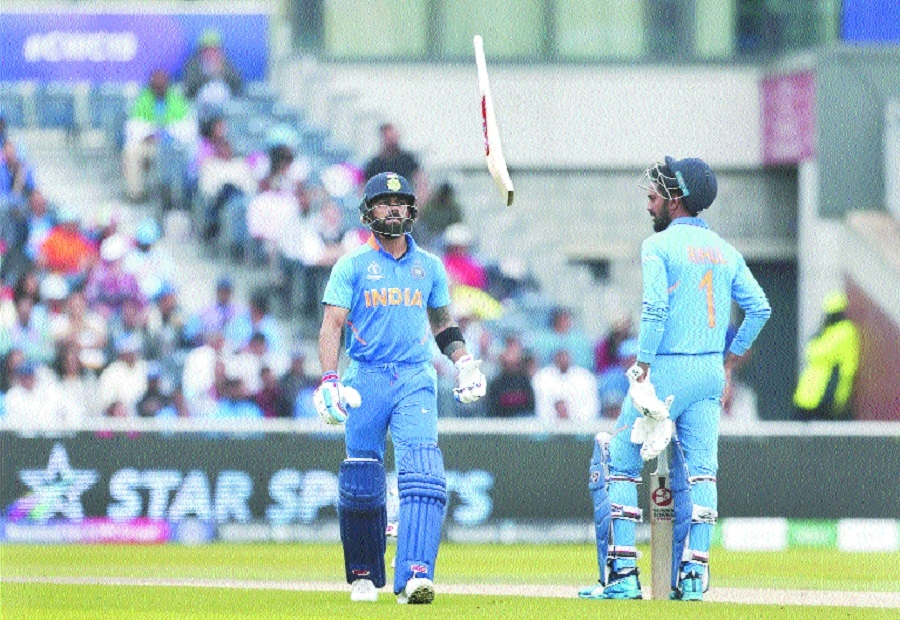 By R Kaushik:
MANCHESTER
NZ pip India by 18 runs to enter final
RAVINDRA Jadeja produced an innings for the ages, a spectacular collection of the cleanest stroke-making on a difficult surface. But not even his breathtaking brilliance could make up for a horror start as New Zealand surged to the final of the World Cup for a second successive edition, with a thrilling 18-run win over India. Matt Henry and Trent Boult had left India in tatters within 19 deliveries of the start of their quest for 240. Rohit Sharma, Virat Kohli and KL Rahul managed just one run apiece as India's worst nightmare – a stunning top-order collapse — sprang dramatically to life. At five for three, India faced a long road back.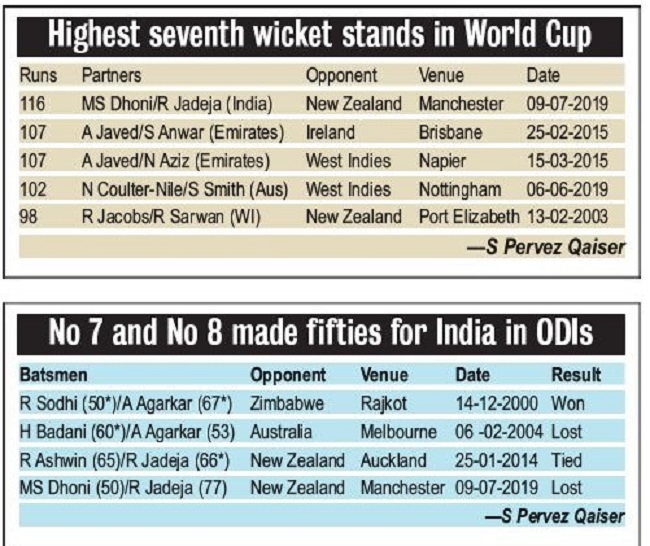 That road wound deep into the wilderness as New Zealand's gun attack applied the choke, Mitchell Santner's under-rated left-arm spin accounting for Rishabh Pant and Hardik Pandya. All escape routes seemed sealed when Jadeja joined Mahendra Singh Dhoni — only batting at No 7 — at 92 for six, with 148 needed in 117 deliveries. Jadeja had warmed up nicely with a superb pick-up-and-throw direct hit from the deep to run out Ross Taylor for 74, and continued to dazzle a half-full Old Trafford on Wednesday's reserve day, batting with an authoritative fluency that had eluded far more celebrated batsmen whilst hammering 77 off just 59. Even so, India only managed 221, chasing the Kiwis' 239 for eight. With Dhoni largely an interested onlooker, his younger, stronger partner did the heavy lifting with tremendous élan.
New Zealand appeared unprepared for the onslaught from the No 8, who struck a series of monstrous sixes. It wasn't, however, just one-gear batting; with his mentor for support, he ran beautifully between the wickets, taking weight off his strokes to test the Kiwis' agility and accuracy from the deep. Still, the game never got away from New Zealand. 90 off 60 balls was a tall order; with Dhoni's hitting abilities diminished, Jadeja was the biggest, if not only, threat. Jadeja's epic ended in attempting another big shot off Boult, after a World Cup record seventh-wicket stand of 116.
Dhoni delivered one final hurrah with a towering six off Lockie Ferguson but Martin Guptill's electric direct hit from deep backward square evicted him for an even 50. New Zealand knew then that there would no shattering end to a dream run catalyzed on Tuesday by fifties from Williamson and Taylor. New Zealand's attack imposed itself early during India's chase, Henry and the seasoned Boult striking debilitating blows in quick time. New Zealand had added 28 in 23 deliveries to their overnight 211 for five to haul themselves to competitiveness, but the force was still with India. Then, swiftly, dramatically, destructively, it no longer was. Boult and Henry were devastating, consuming Rohit, Kohli and Rahul in 10 deliveries for one run. The undercooked middle-order had to play out of its skin, but until Jadeja flickered, they weren't up to the task. With each passing moment, the value of Williamson and Taylor's measured half-centuries became more and more pronounced.
Stunned silence punctuated by roars of Kiwi delight gripped Old Trafford when Henry drove the first nail, drawing Rohit's bat magnetically towards a delivery that tailed away a shade to catch his outside edge. Hardly had the heartbeats returned to normalcy when Kohli, the chase-meister, was gobbled up by Boult for a third time in ODIs this year alone. The captain played around a delivery that straightened a touch, and was struck on the front pad. Umpire Richard Illingworth raised the dreaded finger, sending Boult and his mates into bouts of delirium. Kohli reviewed the decision but even though the ball was hitting only the bails, the original decision had to stand.
It was the third time that Kohli had been dismissed by a left-arm quick in a World Cup semi-final, after Wahab Riaz in 2011 and Mitchell Johnson four years later. His mood darkened further three deliveries later when Rahul hung his bat out to dry, Henry again nicking him off with gentle rather than pronounced movement. James Neesham then took off like superman, diving full tilt to his left at point to pouch a slice-drive from Dinesh Karthik millimetres off the turf to facilitate Henry's first spell of 7-1-23-3. Jadeja almost matched the incandescence of that burst, but there was only so much that even he could do.