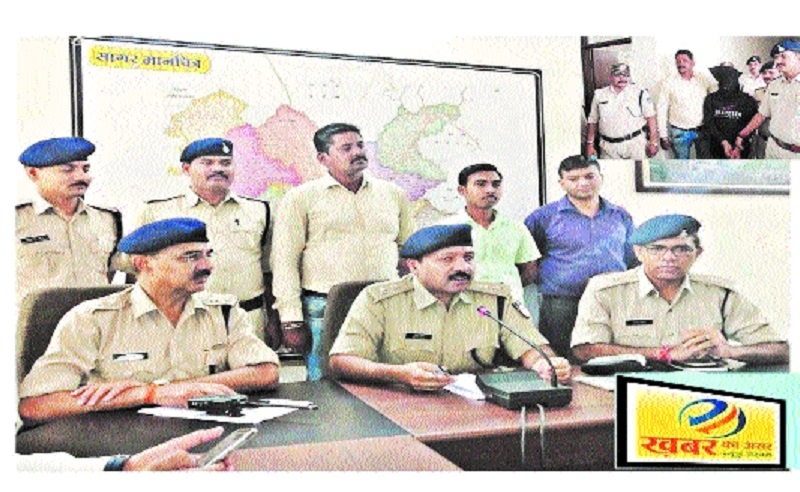 Our Correspondent:
Sagar
Sagar police have arrested the main accused and his accomplice in the loot incident in May month in broad daylight at Gedaji Complex, Sagar city. A Katni-based businessman was divtested of Rs 6 lakh. The other accused of this sensational loot incident were arrested earlier. The absconding main accused Ankit Tiwari, resident of Sagar and his accomplice, Nikki were arrested by Sagar police from Bhandara, Maharastra. Special police team including ASI Gaurav Tiwari, SI Mahendra Dhakad, Brajesh Sharma, Manishankar mishra arrested the accused at Bhandara and brought them to Sagar in their custody.
The main accused was trying to set up a saloon in Maharashtra state. Both accused were presented before court and then remanded to police custody. Under guidance of SP, Sagar and ASP, Sagar, SHO, Kotwali Rajesh Banjare, SHO, Civil Line Reeta Singh, SHO, Makronia Upma Singh, SHO, Motinagar Sangita Singh, SHO, Cantt interrogated the arrested accused. Ankit Tiwari confessed of looting the businessmen with his friends ,Nikki, Lala alias Shakya and Tinku Namdev.
They confessed of involvement in other loot incidents. Police are trying to collect details of other crime committed by this gang. The SP has announced to reward the team which solve this loot incident. Team which solved this incident included RI Rajesh Banjare, SI Mahendra Dhakad, SI Gaurav Tiwari, Brajesh Sharma. Constable Hakim singh, Mansihankar Mishra, cyber cell Constable Amar Tiwari and Saurabh Raikwair. It may be mentioned that on May 19 , bicycle wholesale businessman, Chandrabhan, son of Trilokchand Rohra had come to Sagar city after recovery of amount from village areas.
He parked his car at Namakmandi and started going toward Geda Complex on foot. Three looters stopped him wielding sharp edge knife and looted from him Rs 6 lakh cash, four cheques, order book, keys of car and fled away. Police started investigation and started collecting information about the historyssheeters of Bhopal and Aeta, UP police received tip off that one accused Tinku alias Shyam Namdev was in Bhopal and other accused Bala alias Upendra Shakya was in Aeta, UP state. Police raided both the places and arrested the two accused. Police recovered from them the bag snatched by the accused from the businessman, bike used in the loot, bike purchased from the looted booty. From Tinku Namdev, police recovered Rs 1,25,600 and from Upendra Shakya police recovered Rs 60,000 and mobile. Police arrested two involved in the loot incident and main accused and his accomplice had fled, which were now arrested by police.