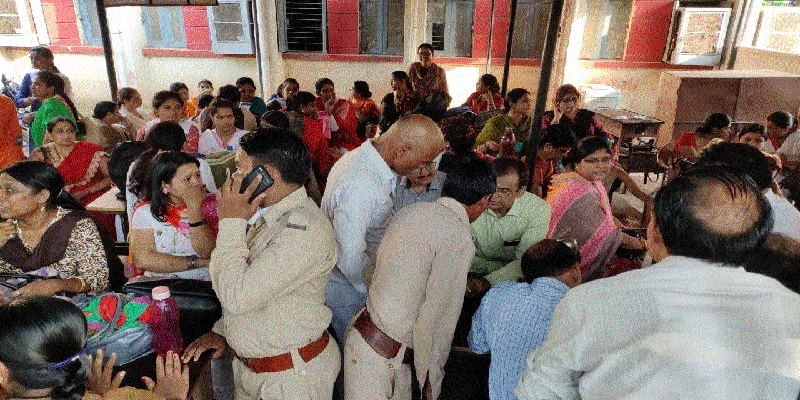 In an unexpected turn of events, the class-3 and class-4 employees of the District and Sessions Court, Durg on Monday went on mass leave protesting alleged misconduct of a Sessions Judge with a peon and also demanding her removal. Although the 'Babus' and Peons came to the Court in their usual reporting time at 10:30 am but abstained from participating in the legal work and were seen sitting in and around the court's canteen.
Similarly, as a mark of the protest, the lawyers also refused to go to the court of the Sessions Judge, who has been accused of behaving inhumanly with the peon. Meanwhile, two judges from the District Court on Monday also recorded statements of five judicial employees regarding the incident that happened on Friday evening last week. It is worth mentioning that on Friday morning, a Sessions Judge posted in the Durg Court had allegedly ordered a peon to stand at the court room's door after he had refused working in her bungalow. The peon Sadanand Yadav had fainted in the evening hours while standing at the door following which he was rushed to the Government District Hospital, Durg from where he was shifted to Ramakrishna Care Hospital, Raipur. Meanwhile, the incident had sparked outrage and the peons had staged a demonstration by sitting in front of court's gate itself and locking the basement parking's shutter on Friday evening last week. Even on the following day on Saturday, the peons who are being supported by lawyers and clas-3 employees' bodies as well had refused participating in the National Lok Adalat owing to which none of the cases were settled.
Meanwhile the protest of over 300 judicial employees continued on Monday too as a result of which judicial work in the District and Sessions Court, Durg was hampered. Police personnel were also deployed in the court. At around 10:30 a m on Monday, the judicial employees gave a letter to the District and Sessions Judge, Govind Kumar Mishra informing him about the mass leave taken by them. There was no one in the courtrooms to open the files or even to take them out from the racks as both babus and peons abstained from doing legal work. Similarly, the lawyers also refused to go to the court of the Sessions Judge, who has been accused of misconduct.
Reliable sources informed that two judges posted in the Durg Court including Sessions Judge, Madhusudan Chandrakar and JMFC Devendra Sahu recorded statements of five employees regarding the Friday's happenings. Those who gave their statements included Santosh Yadav, Dasru, Tarun Sahu, Chandrahas Shrivastava and Intkab. Santosh Yadav, President of Fourth Class Employees Association informed that over 300 court employees on Monday went on mass leave to protest the incident and also demanding actions against a judge. When asked about their next step, Yadav stated that they will launch an indefinite strike until actions are not taken against the judge.