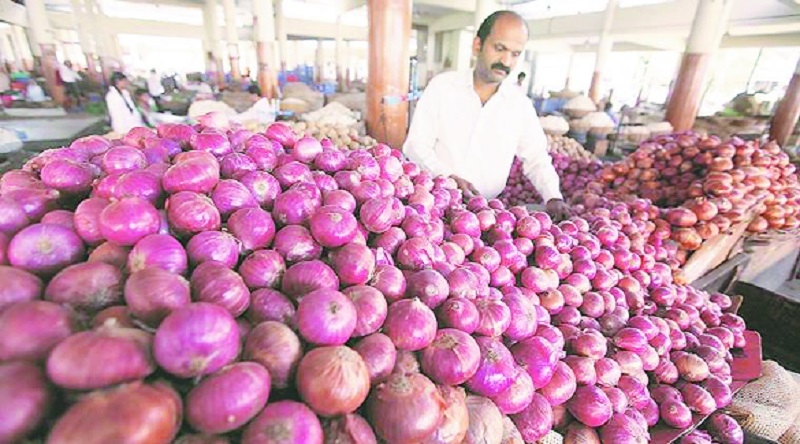 Business Bureau:
Long dry spell of monsoon will cast shadow over the production of the onion. Onion, one of the important staple in the kitchen is all set to become costlier if there are no rains in the coming days. Sources said, although the prices of onions are under control but in the coming days with the Met Department's forecast that monsoon would take break, the prices are going to climb up, sources said. "This year, monsoon was late and after some drizzle, it has taken a break of 15 days," said Jaiprakash Vasani, former President of Kanda Batata Adtiya Association, Kalamna while talking to The Hitavada. Presently, there is an inflow of 28 to 30 trucks laden with red and white onions at the APMC, Kalamna.
The red onion is coming from Chalisgaon, Khamgaon, Ahmednagar and Raisen (Madhya Pradesh). The other variety of onion i.e white is supplied from Akola and Amravati districts. "The present situation is under control. The demand and supply ratio is equal. Whatever onions are coming to the market is from godowns belonging to farmers, traders and Government. It will be problematic if the stock is exhausted in the coming days," he said. Vasani said, in the year ago period, the prices of onion in wholesale market were moving in the range between Rs 10 and Rs 12 per kg.
At present, the prices of red onion are quoted at around Rs 15 and white at Rs 20 per kg in the wholesale market. At retail, the white onion of good quality has already crossed Rs 35 per kg mark. Amol Gulwade, President of Kanda Batata Adtiya Association, Kalamna said, "Sowing of onion has already completed. If monsoon takes long pause, farmers will have to go for resowing. It will be a costly affair and prices will go up." Normally, the new crop of onion from Karnataka starts arriving in APMC, Kalamna in the month of August. It is followed by Dhulia and Nashik in November. With monsoon playing spoilsport, it will dismantle the equations of farmers and consumers. "There is no alternative for onion as it is not preserved in any other form like paste. If the new crop is delayed, in the coming days, people have to cough up more money," he further said.