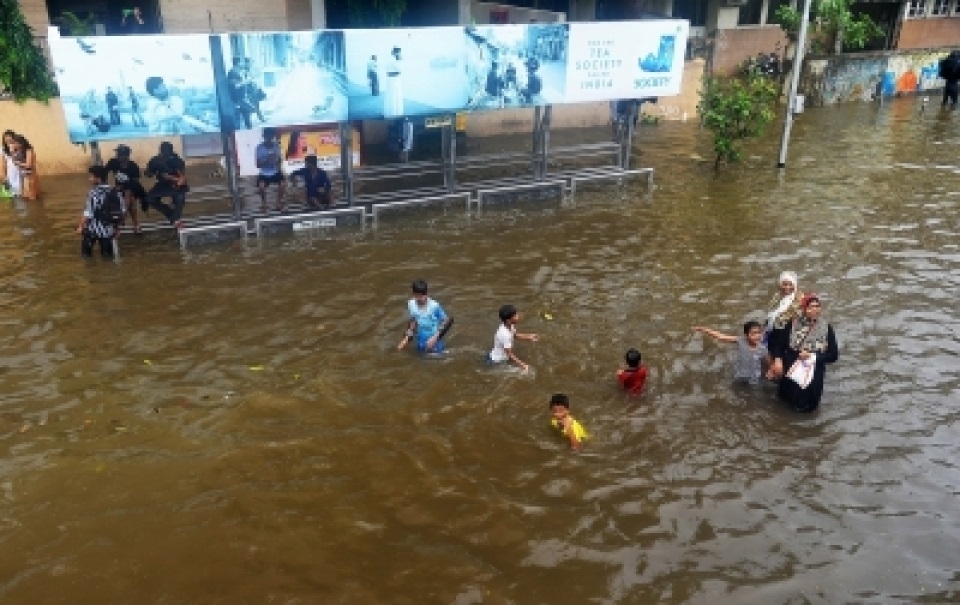 MUMBAI:
A PERSON was electrocuted and three were killed after being struck by lightning as rain pounded Mumbai and many parts of Maharashtra for the fourth consecutive day, disrupting normal life and hitting air, road and rail traffic, officials said on Monday. A 30-year-old man, Mohammed Ayub Kazi, was electrocuted inside his home in Shivajinagar, Govandi suburb in north-east Mumbai. He was rushed to the Rajawadi Hospital where he was declared dead.
Three others, including a woman, were killed and two injured after being struck by lightning as they took shelter from heavy rain in a shed in Solapur on Monday afternoon. "The five victims were waiting for the rains to subside in a shed near the Mandrup village when suddenly lighting struck them. The three killed are Parvati M. Kore, 55, Chatursingh J. Rajpu, 41 and Sanket D. Chormule, 17. The other two have been rushed to the district hospital," Mandrup police official Baburao Rathod told IANS. As the South-West monsoon became active over Konkan, Goa, Madhya Maharashtra, Marathwada and Vidarbha, IMD Monday predicted "heavy to extremely heavy" rainfall at isolated places over these regions in the next two days. Heavy to very heavy rainfall is expected at few places with "extremely heavy" rainfall at isolated places over Vidarbha, very to heavy rainfall at isolated places over Madhya Maharashtra and Marathwada regions, an official said.
"Heavy to heavy rainfall with extremely heavy falls at isolated places over Konkan and Goa are likely to be witnessed," he said. On Tuesday (July 2) and Wednesday (July 3), light to moderate rainfall is expected in Pune and adjoining area. Heavy rains are pummelling Mumbai since Sunday night. According to officials, the financial capital has received 540 mm rain in two days, the highest over a two-day period in a decade. Overnight heavy spells of rain inundated at least 137 spots all over Mumbai, and virtually halted all traffic movement, leading to huge traffic snarls since daybreak.
Flights to and from Mumbai's Chhatrapati Shivaji Maharaj International Airport were delayed by 35 minutes owing to heavy rain and low visibility, said an official. Long-distance services on the Central Railway's Mumbai-Pune sector were hit following the derailment of at least four wagons of a goods train between Jambrung and Thakurwadi in the Monkey Hill.