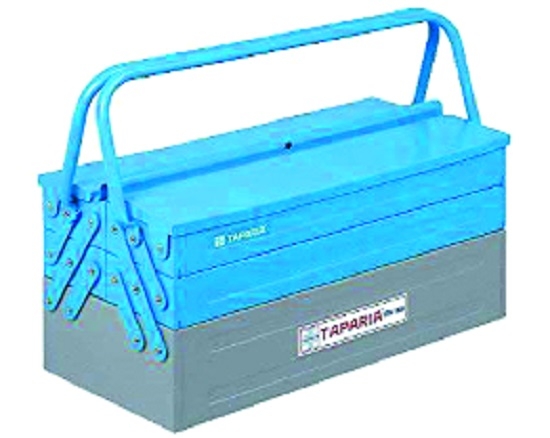 TAPARIA Tool has launched cantilever tool boxes for storing different types of tools, accessories etc. This is a heavy duty, robust, metal cantilever tool box. Ideal for transporting and storing hand tools and accessories. The cantilever tool box is ideal for both professionals and amateur. The Taparia tools cantilever design allows easy access to all contents. Cantilever tool boxes are made from high gauge steel sheet for higher strength and long life. It has two steel handles for balanced and comfortable carrying.
Cantilever tool boxes are assembled with stainless steel rivets for extra strength and they are powder coated for corrosion resistance's with locking provision. Cantilever tool boxes are available in 3 and 5 tray compartments. Taparia tools are well accepted and appreciated for its high quality performance.
Since its inceptions besides being a brand leader in India Taparia tools are being exported to a number of countries such as UK, USA, Denmark, Israel, Germany, Sweden, Norway, Finland, Dubai, Kuwait, Tanzania, Kenya, Hong Kong, Thailand, Mexico, Brazil, Panama, Argentina, Paraguay, Uruguay, Ethopia, Egypt, Australia, UAE and Sri Lanka etc. Taparia Tools Ltd is at 423/424, A-2, Shah and Nahar, Lower Parel (W), Mumbai (Ph: 022-61478646, 022-24953230).