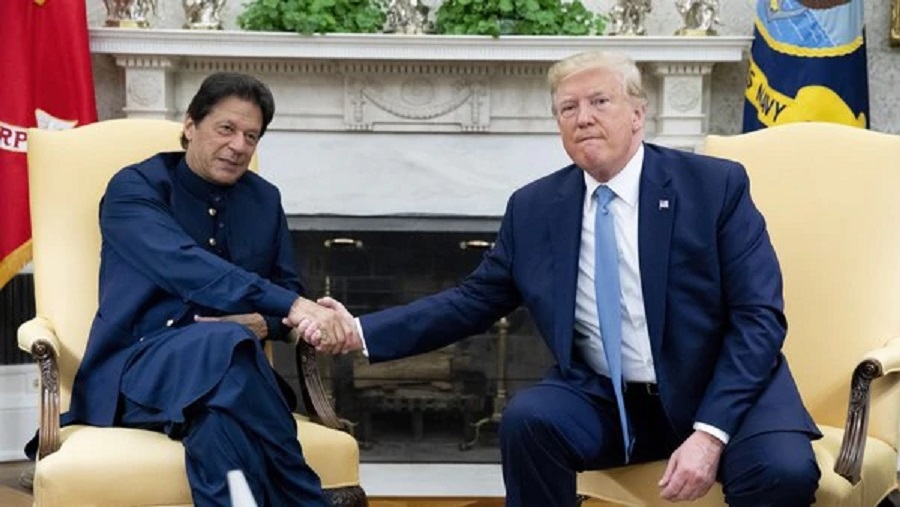 WASHINGTON:
US PRESIDENT Donald Trump on Monday offered to mediate between India and Pakistan on the Kashmir issue as he met Prime Minister Imran Khan at the White House for the first time. Trump said that he is ready to help, if the two countries ask. "If I can help, I would love to be a mediator," Trump said in his opening remarks at the Oval Office during his meeting with Khan. Khan welcomed Trump's remarks and said if the US agrees, prayers of more than a billion people will be with him. India has not been engaging with Pakistan since an attack on the Air Force base at Pathankot in January of 2016 by Pakistan-based terrorists, maintaining that talks and terror cannot go together. Khan was accompanied by Army chief General Qamar Javed Bajwa, Inter-Services Intelligence (ISI) chief Lt Gen Faiz Hameed and Foreign Minister Shah Mehmood Qureshi among others.
'US WORKING WITH PAKISTAN TO FIND WAY OUT OF AFGHAN WAR': On the tricky Afghanistan issue, Trump said the Washington is working with Islamabad to find a way out of war in Afghanistan. Trump held out the possibility of restoring US aid to Pakistan, depending upon what is worked out. Khan told there was only one solution for Afghanistan and that is a peace deal with Taliban.
MEA denies Trump's claim that Modi asked him to mediate on Kashmir
NEW DELHI:
INDIA on Monday night denied US President Donald Trump's claim that Prime Minister Narendra Modi had asked him to mediate in resolving the Kashmir issue with Pakistan. As he met Pakistan Prime Minister Imran Khan at the White House, Trump offered to be the "mediator" on the Kashmir issue and even said he has received a request to do so from Modi during a recent meeting with him.
External Affairs Ministry Spokesperson Raveesh Kumar said no such request has been made by Modi to the US President. "We have seen President Trump's remarks to the press that he is ready to mediate, if requested by India and Pakistan, on the Kashmir issue. No such request has been made by Prime Minister to the US President," he said. He said it has been India's consistent position that all outstanding issues with Pakistan are discussed only bilaterally.