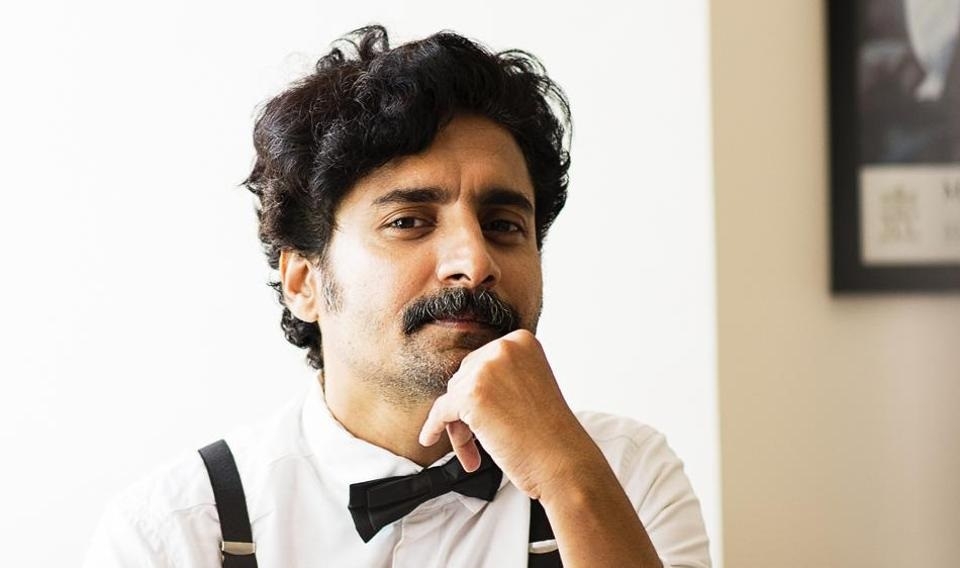 By Farina Salim Quraishi:
Slow and steadfast, is one mantra actor Chandan Roy Sanyal believes in wholeheartedly. Chandan, who made the world sit up and take notice of him with his breakout role of Mikhail in Kaminey, has followed up his brilliant outing with noteworthy performances throughout the better part of the decade. Even his last OTT outing, Hawa Badle Hassu - an ecological thriller - left audience more than a little dazed and definitely left them asking for more. The talented actor played the titular role of Hassu, an auto driver zealously advocating environment protection in the hit show. Chandan is now back on the big screen and ready to tickle Bollywood fan's funny bone.
He will be seen alongside Sidharth Malhotra and Parineeti Chopra in the forthcoming romantic comedy, Jabariya Jodi. A self-confessedly light and breezy offering, the film about the groom kidnapping isn't preachy or loaded with any serious lecture. Chandan plays Guddu in the Prashant Singh-directed comic caper and the Chef star says he had fun playing the unabashed goon with the heart of gold. "Guddu is Abhay's (Sidharth Malhotra) bestie and hand in glove in all his 'deals'. It's a character that is very different from what I have done in the past. Jabariya Jodi is set in Bihar and among several practices prevalent there, Pakadwa Vivah aka kidnapped marriages are solemnised even today in parts of Bihar and UP. Sidharth and I run a gang in Bihar, which abducts grooms for such marriages. Since the film is set in Bihar, I had to speak in Bhojpuri.
It was fun learning the language and even more fun to give full on Bhojpuri comedy a shot," adds Chandan, who was last seen in Nandita Das' uber-serious Manto last year. Comedy, as most artists swear, is most difficult and Chandan concurres. "Comedy on the surface looks very easy, but isn't, not by a mile. Timing is everything in a comic act. You could have the best joke in the world with you, but mess up the timing and you'll probably be the only one laughing at it! It's an art easy to know and very difficult to master. Also, ideally I like subtlety in everything I do. However, for Jabariya Jodi I have gone the whole yard in being outspoken and loud. I was afraid of going overboard and ruining the performance. It's the loudest and yes, the most massey I've been on screen till date! Moreover, Jabariya Jodi turned out to be quite an amazing experience. Sidharth is a great person to work with and we had a fantastic time during the shoot," says Chandan, who chooses his rolewith care.
Right from his debut in 2006 with Rang De Basanti, to his last Hawa Badle Hassu, Chandan choice's have not exactly been safe by Bollywood standards. Quiz the 39-year-old-actor about what makes him say yes to a project and Chandan swears by the script. "For me, first and foremost thing is the script and then my role in it. If the script is good, automatically my part will be good. I want to play good characters, not necessarily lengthy ones. I have a hunger for roles that people will remember for a long time. I have worked with big names like Nandita Das, Vishal Bhardwaj, Imtiaz Ali and others; but I also want to work with new talents and first-time directors. The project just needs to be exciting and should creatively satisfy me," adds Chandan, who is making waves in Bengali cinema and the OTT platform.
Speaking effusively about web medium, Chandan says, "The digital medium is a creative haven. Just look at the variety of content available, it's so experimental! Since it is not dictated by the rules of Bollywood, the content is interesting and engrossing too. Web shows offers are raining left, right and center and it's so surprising that people want to cast me in so many projects. It feels like people have suddenly discovered my perfect fit! With Netflix and Amazon and other big players jumping into the fray, things will only get more interesting from this point on. I don't have a strategy as such because films and web are entirely a director's medium.
But I'm game for all kind of roles and projects; with the clinching factor being the script of course," says the actor, who loves working in dark crime thrillers, but prefers to watch subtle dramas. Despite getting positive response from both critics and audiences for his roles in Jab Harry Met Sejal, Chef, Jazbaa and Manto, Chandan's on-screen appearances have been far and rather few. Ask him why and Chandan cites a well-known Bengali nugget of wisdom as explanation. "We have a saying in Bengali which says that one's craft is a very precious commodity and one should use it with care and not over-expose it. Every actor comes with an expiry date and overexposure just hastens the process. I want to take my journey count one good bit at a time," he says on the parting note. Jabariya Jodi opens on August 2.