MUMBAI
IN A jolt to the Sharad Pawar-led Nationalist Congress Party (NCP) ahead of the Maharashtra Assembly elections, its Mumbai unit chief Sachin Ahir joined the ruling Shiv Sena on Thursday. Elections are due in the State in September-October. Soon after joining the Sena, Ahir announced that he would contest the election from Byculla in South Mumbai.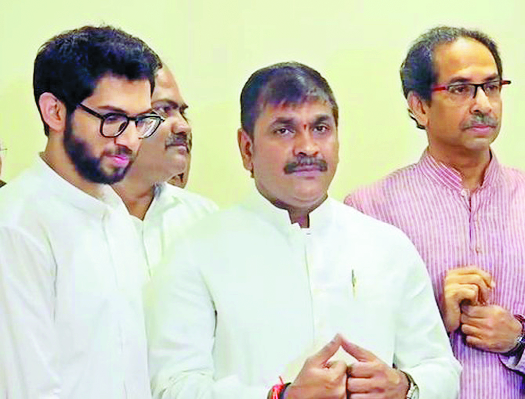 The NCP said that Ahir deserted the party because he was not confident of winning election on his own, and his exit will have no impact on its poll prospects.
Ahir, 47, who was a Minister in past Congress-NCP Government in the State, joined the Sena here in the presence of its president Uddhav Thackeray and Yuva Sena chief Aaditya Thackeray.
Welcoming Ahir, Uddhav, in an apparent jibe at ally BJP, said breaking up other parties was not Sena's style. "Sachin Ahir has joined us willingly and happily. I assure him that he will not regret his decision," he added.
Ahir, who was with the NCP since its formation in 1999, represented Shivdi Assembly seat in Mumbai from 1999 to 2009 and was later elected from Worli. But in 2014, he lost to Shiv Sena's Sunil Shinde from Worli. Ahir announced in the evening that he will contest from Byculla this time. "Sharad Pawar will be in my heart. But I will have Aaditya and Uddhav-ji's strength in my body to work for the Shiv Sena," he said.
Saying he had no grudge against the NCP, Ahir said 'some unavoidable political decisions had to be taken considering the prevailing situation.'
Reacting to development, NCP spokesperson Nawab Malik said that Ahir crossed over to Sena because he was not confident of winning under his own steam.
'MLA Bhosale very much in NCP': Amid speculation in political circle that NCP MLA Shivendrarsinhaje Bhosale was feeling unhappy in the party and may quit, senior leader Ajit Pawar on Thursday asserted that former is very much in party. Bhosale was feeling disgruntled as he did not submit form seeking the party's candidature for the forthcoming Assembly polls.
Bhosale also did not turn up for the interviews of the NCP's aspiring poll candidates from the district, further raising doubts about him being on his way out of the party.