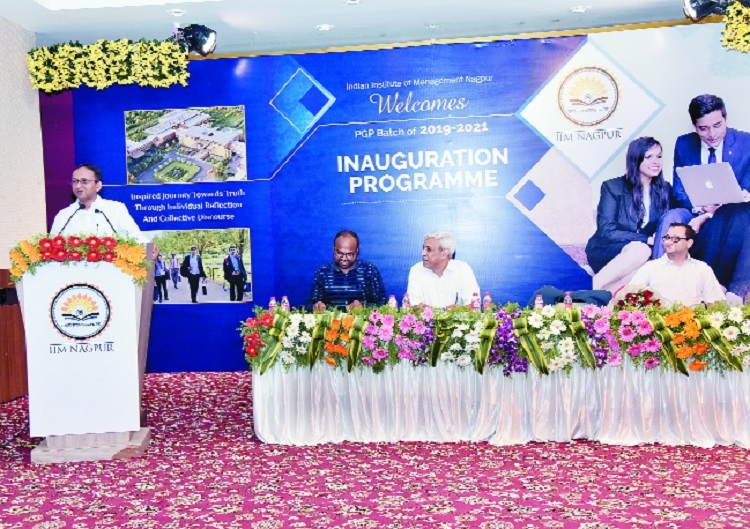 Business Bureau:
The Indian Institute of Management Nagpur welcomed its fifth batch of PGP students (2019-21) recently at a function held in NIT Community Hall. The event was graced by Nitin Bawankule, Country Director for Google Cloud, and attended by the students of PGP-1 and 2, IIMN faculty, staff and parents of the students. The inauguration flagged off the week-long orientation programme for the new batch. Prof Thiagu Ranganathan, Admissions Chairperson, began the event with an account of the selection process that ensured that only the most deserving candidates made it to the institute.
"Fairness is more important than efficiency," he stated, to emphasize that the process of selection did not compromise on quality over efficient execution. The institute also sought to maintain inclusivity, he said, referring to the implementation of the EWS (Economically Weaker Sections) quota from the current year at IIMN. Nitin Bawankule, who is an alumnus of VNIT, Nagpur and IIM Bangalore, spoke about the importance of values and practices such as upskilling, embracing change, thinking big, networking, teamwork and a problem-solving attitude.
Citing examples of various industry giants, he explained to the students that reinvention and the ability to think for the long term were key to remaining relevant in the industry. In addition to this, he also advised the students to remain humble, optimistic, retain integrity and put personal well-being first. He ended with a note to the students about recognizing their privilege and giving back to society. In his speech, IIMN Director Prof L S Murty congratulated the students and their parents for achieving the milestone. He emphasized that parents would have to continue to support their children throughout the two-year journey in which students might encounter many ups and downs.
Speaking about the institute, Murty referred to the logo and motto of IIMN as signifying a constant journey in the pursuit of the ultimate knowledge. This journey, while aided by members of the faculty, will also involve rigorous self-reflection and collective exploration on the students' part, he said. He also said that the new batch would be unique in terms of being the first batch to experience both the present as well as the upcoming permanent campus of IIMN at MIHAN. Murty concluded with valuable advice to the new batch in the form of an analogy – that of a grinding wheel that goes on incessantly.
It is up to the tools to apply themselves to the wheel to hone themselves, abrasive though the process may be. An implement that has applied itself to the grinding wheel correctly would have extracted the maximum benefit from the process. Prof Deeparghya Mukherjee, PGP Chairperson, expressed his hope that the batch would uphold the professional values inculcated in their previous workplaces at the institute as well.