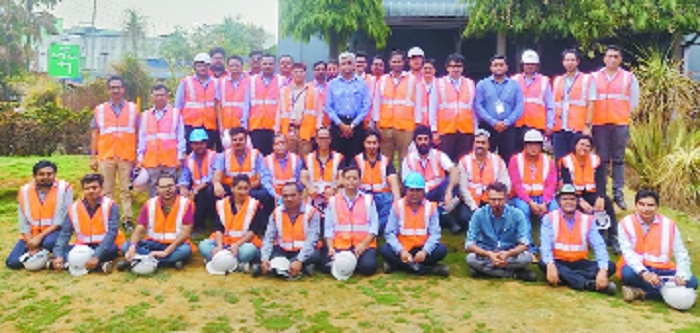 Business Bureau:
CII Vidarbha Zone has conducted the 'Manufacturing Excellence Study Mission' to JSW Steel Coated Products Ltd, Kalmeshwar on June 22. Mukul Verma, Plant Head, JSW Steel Coated Products Ltd, Kalmeshwar welcomed the CII delegation and briefed them about the strategies and best practices adopted at the JSW Group. He also mentioned how they are building behavioural change, developing sense of responsibilities and competitiveness among the employees.
Heads of various departments like Dr Balasaheb Deshmukh presented a talk on Health Safety and Environment Best Practices, Abhay Girhare gave presentation on manufacturing related best practices, TQM and Energy Efficiency and Management. The objective of this study mission was to enable industry to learn best practices from the world class company and be able to benchmark with those doing exemplary work. Also, to learn best practices adopted by these companies, interaction with the management team and sharing of experiences.
The learning session covered various topics related with strategies, methods, best practices, tools and technologies adopted and implemented by JSW Steel plant on manufacturing excellence, operational efficiency, maintenance, TQM, environment, health and safety, energy efficiency, loss elimination/reduction, TQM, 5S, Kaizen, supply chain management, automation to name a few.
Demonstration of various projects implemented and their rational/technology has also been covered during the plant visit. Participants attended from industries like Hindalco Industries Ltd, Sandeep Metalcraft Pvt Lt., Raymond Ltd, Metlok Pvt Ltd, Amitasha Enterprises Pvt Ltd, Ceat Ltd., Vidarbha Ceramics Pvt Ltd, Piyush Plasto Chems Pvt Ltd, KEC International Ltd, GMR Warora Energy Ltd, Techno Engineering and Rubber Industries, Solar Industries India Ltd, Bajaj Steel Industries Ltd. Jubilant Foodworks Ltd etc. CII has received very good feedback from the participants and recommendations to organise such study mission on regular basis as it is beneficial specially to the SMEs. It also help in cross learning and developing competitiveness among the industries.