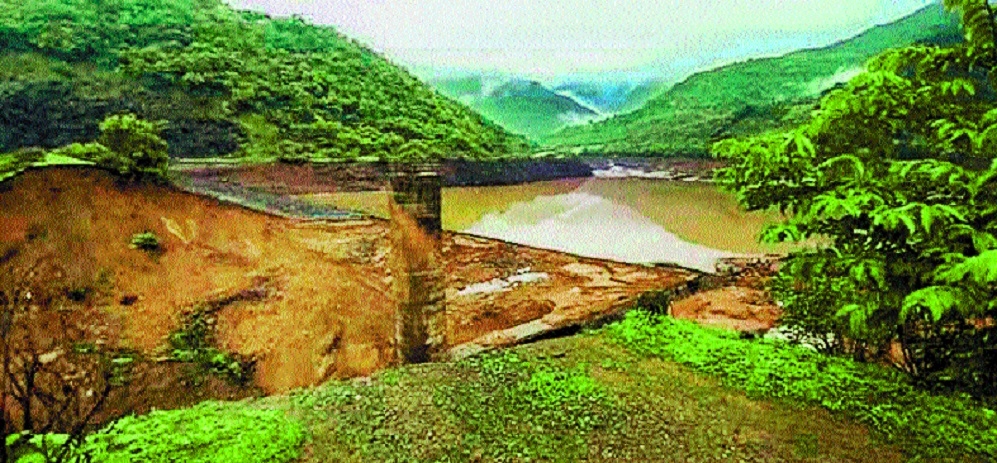 A view of the Tiware dam after it breached following incessant rains, in Ratnagiri on Wednesday. (PTI)
MUMBAI:
Dam breach caused a flood-like situation in seven downstream villages, with as many as 12 houses being swept away
TWENTY-THREE persons are feared killed after a dam in Maharashtra's coastal Konkan region breached following incessant rains leading to flood-like situation in downstream villages, officials said on Wednesday. Bodies of 11 persons have been recovered so far, a police official said. The total toll would be 23, he added. The Tiware dam in Chiplun taluka of Ratnagiri district has a storage capacity of 20 lakh cubic metre. It developed a breach late Tuesday night, a district official said. The dam breach caused a flood-like situation in seven downstream villages, with 12 houses being swept away.
"So far, 11 bodies have been recovered," said Additional Superintendent of Police, Ratnagiri, Vishal Gaikwad. Police have moved villagers to safety, he added. Relatives of the victims said they had asked district administration to repair the dam as they had spotted cracks in November last year. There was an issue over the jurisdiction of which tehsil Tiware dam falls in, as Chiplun and Dapoli tehsil offices had ignored the application of the villagers, said a family member of one of the dead.
"It is only because of their negligence that we have seen this day," he said. "My parents, wife and child of one and a half year is missing," he added. SIT to probe breach in Tiware dam: Mahajan: THE Maharashtra Government late on Wednesday evening announced a probe by a special investigation team (SIT) into the breach in Tiware Dam in Ratnagiri district. "An SIT will probe the breach," said Water Resources Minister Girish Mahajan.
Mumbai slowly returns to normalcy but commuting woes continue
MUMBAI
SCHOOLS and colleges opened and lakhs of commuters clambered on to overcrowded trains to make a perilous journey to work as the rain subsided and India's Maximum City slowly returned to normalcy on Wednesday. A day after the heaviest rain since 2005 brought the country's financial capital to its knees, leading to a wall collapse in which 22 people were killed, the waters receded from several parts of the city.
As people in low-lying areas began to pick up the pieces from Tuesday's rain mayhem, clearing their homes of the sludge that had come with the waters, a Mumbai civic body official said public transport was normal. Lakhs of citizens commuting on suburban trains had a tough time due to curtailed operations on certain routes. As fewer services were operated, commuters found it tough to board trains which were heavily crowded. Many commuters took to Twitter to express their anguish over curtailed train services and the resultant huge rush.