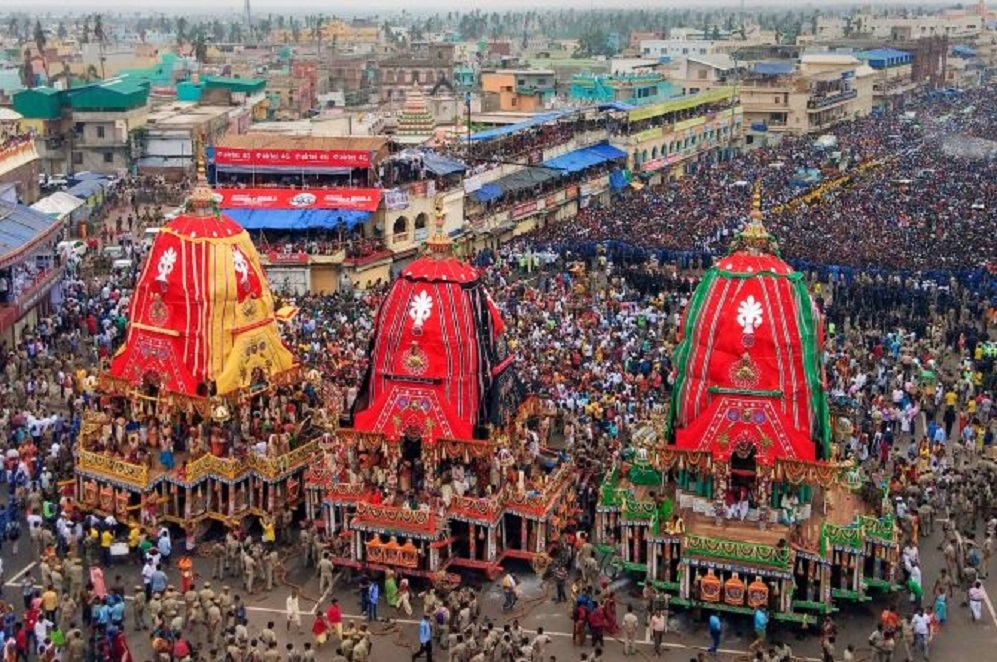 PURI (Odisha):
PREPARATIONS are in full swing for the holy Jagannath Rath Yatra, also known as Gundicha Yatra of Lord Jagannath and his siblings. Lakhs of devotees thronged the streets of Puri to celebrate the day with religious fervour and devotion. As per the rituals, three garlands of consent from the three deities were placed on the three grand chariots thereby officially permitting the conduct of preparatory rituals for reading the chariots for pulling. The three chariots look just like temples that have been decorated with small idols, diyas and garlands. The processions pulled the chariots from Ratha Khala (construction site of the chariot) and later parked them outside Lion's gate for the commencement of the rituals for the Yatra. Several people were seen celebrating the festival by playing drums, trumpets and singing devotional songs.
There are traditional dances and performances every year that make this procession a very vibrant affair. The first chariot to reach Lion's gate was of Nandighosa followed by Devi Subhadra's Devadala and at last Lord Balabhadra's Taladhwaja, amid presence of thousands of devotees who have already begun to swarm the pilgrim city ahead of the mega festival. Devotees from all across the globe were present to show their presence for the auspicious day. Datyaroka Swami Tapasi, one of the devotes from Croatia, Europe who is a frequent visitor to Shree Jagannath Temple said that it was the first time that he is witnessing such a festival.
"I have visited the Shree Jagannath Temple a lot of times but this is my first experience of attending this festival. Every year due to some reason I am unable to plan a trip to this place especially during this festival, but this time I made sure to visit and seek blessings from the lord. I am going to cherish my first visit to this auspicious occasion of Rath Yatra all throughout my life." While sharing her excitement about attending the Rath Yatra, another devotee, Mangala from Italy said, "I am a bit emotional thinking that I am among the fortunate ones who could actually be a part of the celebrations and that too for the first time. I am really surprised to see the decorations and the huge raths which is just amazing."
The festival is not just about the Rath Yatra but also the security that has gone behind, turning the celebrations into a successful one. Kovind, Modi greet citizens on occasion of Lord Jagannath Rath Yatra: PRESIDENT Ram Nath Kovind on Thursday extended greetings to the citizens on the auspicious occasion of Lord Jagannath Rath Yatra. Taking to Twitter, the official account of Rashtrapati Bhavan tweeted, 'Greetings and good wishes to fellow citizens on the auspicious occasion of Rath Yatra. May the blessings of Lord Jagannath bring peace, happiness and prosperity to everyone's lives." Prime Minister Narendra Modi also greeted everyone on the occasion of the Rath Yatra and prayed to Lord Jagannath.