Business Bureau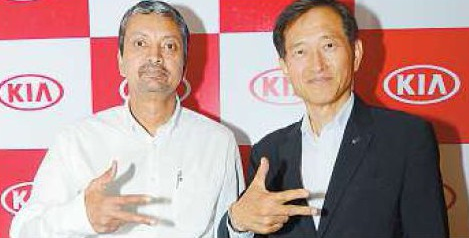 Yong S Kim, Executive Director Kia Motors and Manohar Bhat, Vice President of the company interacting with the press on Friday.
KIA Motors, world's 8th largest automaker shared its India business plans and expansion strategy during a press conference in Nagpur on Friday. YongSKim, Executive Director and CSO, Kia Motors India and ManoharBhat, Vice President and Head of Sales and Marketing,Kia Motors India, revealed that the company recently held
the world premiere of the much-awaited Seltos in Delhi on June 20.With a target of launching a new car every six to nine months after the launch of the Seltos in India. Staying true to its brand philosophyof'ThePowertoSurprise,' the Kia Seltos comes not only with segmentfirst and India first features but also with world first features too. The Kia Seltos is the first car in the segment with a heads-up-display to ensure the customer'sfullattentionremains on the road. The vehicle boasts hi-tech sound mood lamp that changesthelightingbasedonthe driver's mood, a rear share curtain to keep the rear occupants protected from the harsh rays, a surround view monitor to tackle every blind
spot.Seltosalsoprovides a concierge service on the go from it sproprietary UVOapp, POI push to car, air purifier on and off and comes equipped with dedicatedSOS,RSAandUVObuttons on the IRVM that are always to alert the assistance services in case of emergency. The Kia Seltos is indigenously manufactured and oozes contemporary and stylish design with plush, spacious interiors. The vehicle boasts many world,India and segment firsts with class leading safety features, making the vehicle capable to disrupt the segment. It comes equipped with Smartstream, a third-generation powertrain developed for high efficiency and powerful performance.