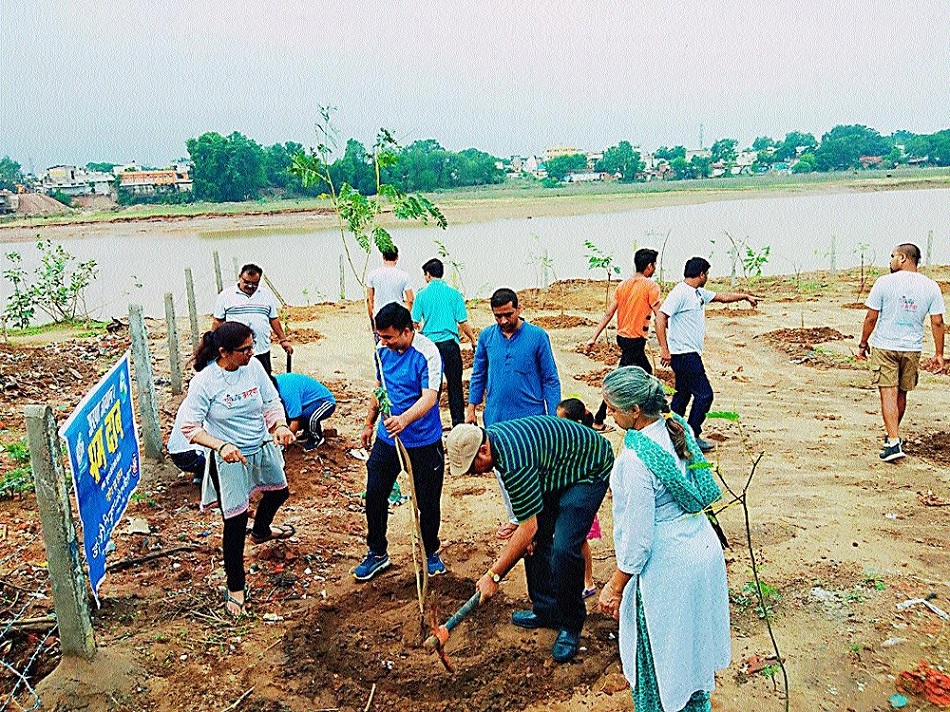 Thousands of people participated in the week-long plantation drive 'Sankalp Arpa' initiated by Director of Prayas Advertising, Mamata Pandey on the Arpa river bank. The Hitavada shouldering its
responsibility to save the lifeline of Bilaspur and save the
environment also actively participated in the drive to save the river and people.
Our Correspondent:
BILASPUR
'Sankalp Arpa' initiated by Director of Prayas Advertising, Mamata Pandey with The Hitavada concludes
The week-long 'Sankalp Arpa' initiated by Director of Prayas Advertising Mamata Pandey along with The Hitavada on Arpa river bank concluded on Sunday with thousands of people from all walks of life joining the campaign. MLA Shailesh Pandey was chief guest of the concluding ceremony. About 3,000 saplings were planted in week-long 'Sankalp Arpa'. The drive will go a long way in saving the environment and the Arpa river.
Thousands of people from all walks of life responded to the call and planted saplings to save the lifeline of Bilaspur and help in increasing the water level. It maybe recalled that The Hitavada had earlier launched a campaign to save river Arpa in March 6 and 7, 2019 edition. Addressing the ceremony Shailesh Pandey highly appreciated The Hitavada, Prayas Advertising and all other participants who joined the campaign and planted saplings to save the environment and river, the lifeline of Bilaspur. He said that the nature has given us many things in life and now it was our responsibility to return back to the nature. He said that we must be responsible towards the environment and discharge our duties to protect the mother earth. He said that more such drives must be initiated to develop Bilaspur as clean and green city.
The Hitavada Chhattisgarh Unit Head Anil Pawar in his address thanked all the people for joining the campaign and extending their support to save the ecological balance. He also appealed people to follow traffic rules and generate awareness among others to follow traffic norms.
The function was also addressed by Manju Didi of Prajapita Brahmakumari, Editor of Dainik Bhaskar Vipul Gupta and Mamata Pandey. Dignitaries including Chairman of Career Point World School (CPWS) Kiranpal Singh Chawla, members of Art of Living, Innerwheel Club, Lions Club, Gaurav Tiwari of Real Build Private Limited, Pinki Agrawal, Bharatiya Marwadi Samaj, President of Yoga Group Rita Bhandari, Dr Om Makhija of Makhija Test Tube Baby Centre, members of Gujrati Samaj, Marwadi Samaj besides large number of people actively participated in the plantation drive.