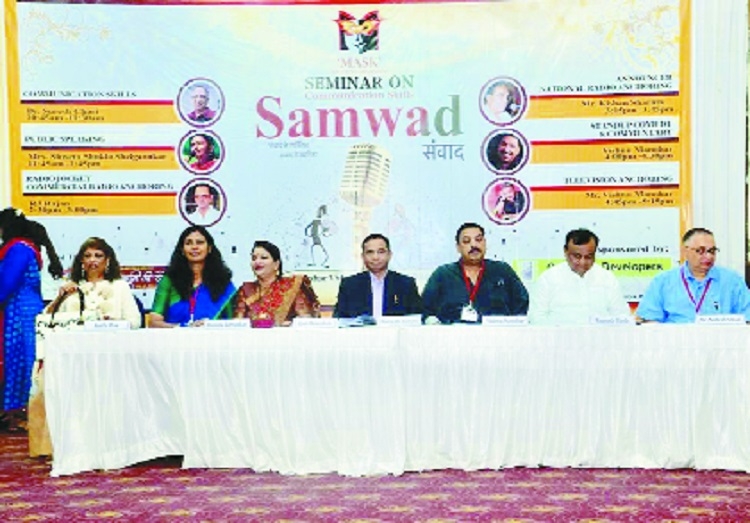 Business Bureau:
A UNIQUE seminar on communication skills 'SAMVAD' was recently conducted at Jawahar Vidyarthigruh. Suresh Rathi, President of VIA inaugurated the seminar. Anita Rao, Joint Secretary of VIA was the key note speaker. Jyoti Bawankule, President of Jagdamba Lokseva Pratishan Society was the guest of honour. Chef Vishnu Manohar, Ramesh Girde, President of Jawahar Vidyarthi Gruh, Vijay Jathe, Director of Concepts and Manisha Bawankar, proprietor of 'MASK' life style store were present.
The programme was informative and extremely useful for career oriented students, wherein each session captured the attention of the audience. Dr Suresh Chari talked on communication skills. "Growth and development of mankind has been possible mainly due to communication between human beings," he said. "Communication is the necessity of life. Communication is basically a human dialogue and a social skill," he added. Shweta Shukla Shelgaonkar talked on the need of proficiency in public speaking. RJ Rajan talked on the careers associated with voice artist and other areas. Kishan Sharma gave his valuable advice and experience of working as a well-known announcer in the national radio 'Akashvani', which is All India Radio (AIR).
The Government owned national radio station is known for the unmixed, civilised and cultured language, appropriate words and the right pronunciation. Vishnu Manohar, Nagpur's TV star and chef guided the audience on television, non-fiction television, live anchoring, news reader and interviews. He also took a lively and grasping session on standup comedy and commentary. The overall atmosphere of the seminar was vibrant and the excitement of the audience was contagious.
The programme received an overwhelming response. Students and teachers from various institutes attended the programme like Aakar Group of Institutions, Hingna, Aptech Aviation Academy, AadarshVidyamandir High School and Junior College, Smt Kaushalya Devi Maheshwari Mahila Mahavidyalaya, Ambedkar College, Santaji College, Dhanwate National College, LAD College, Seminary Hills, Government Polytechnic College and Sevadal College. The concluding programme had Vishnu Manohar as the chief guest. Bhaskarrao Ragit, Nilima Bawane, Jyoti Bawankule and Vandana Sharma were invited as the guests of honour. Vandana Sharma talked about the importance of coming up with quick and witty one liners, rhymes in conversation and the positive effect they can have on conversations. Nilima Bawane, guided the audience with great spirit. Bhaskarrao Ragit, felicitated Adarsh Vidya Mandir High School and Junior College for maximum number of participants. The programme was coordinated by Vijay Jathe.