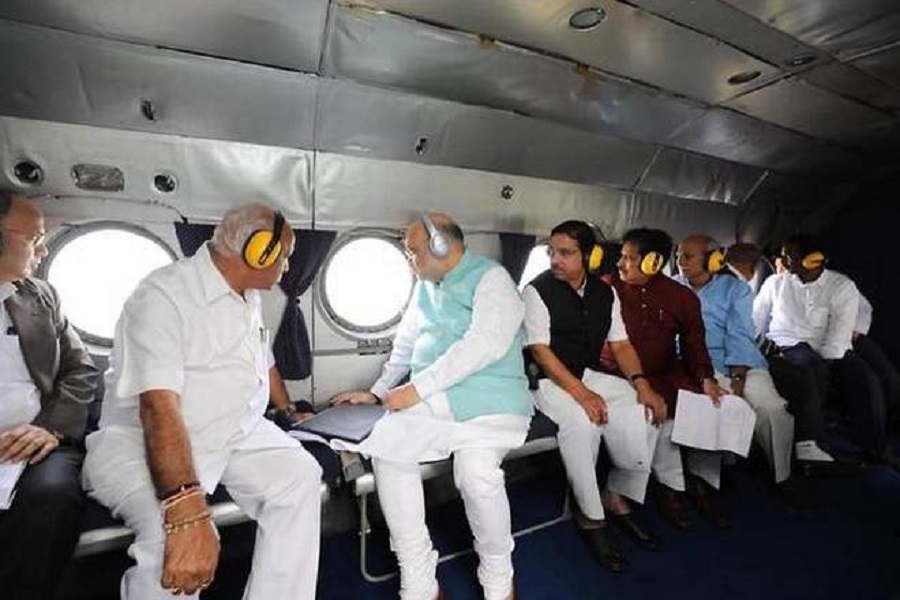 Union Home Minister Amit Shah, Chief Minister of Karnataka B S Yediyurappa take an aerial survey of the flood-hit Belgaum on Sunday. Rain related reports on page 3, 5 and last page. (ANI)
NEW DELHI/BENGALURU/MUMBAI:
UNION Home Minister Amit Shah carried out an aerial survey of the flood-affected Belagavi district of Karnataka, and Sangli and Kolhapur districts in Maharashtra on Sunday, officials said. Shah arrived by a special aircraft from Chennai at the Sambra airport in Belagavi and conducted the survey of some of the affected areas on board an Army helicopter, official sources said.
He was accompanied by Chief Minister B S Yediyurappa, Union Ministers Pralhad Joshi and Suresh Angadi, Rajya Sabha member Prabhakar Kore and Hukkeri BJP MLA Umesh Katti. The Home Minister also did an aerial survey of flood-hit areas in Sangli and Kolhapur districts in Maharashtra. He was briefed by Maharashtra Chief Minister Devendra Fadnavis about the current flood situation and the measures undertaken in the southwestern part of the State.
"Did an aerial survey of the flood affected areas of Belagavi (Karnataka) and Kolhapur & Sangli (Maharashtra)," Shah tweeted. "Also held a meeting with senior officials to review the relief operations." The Home Minister added that the Central and both the State Governments were totally committed to helping the people in distress.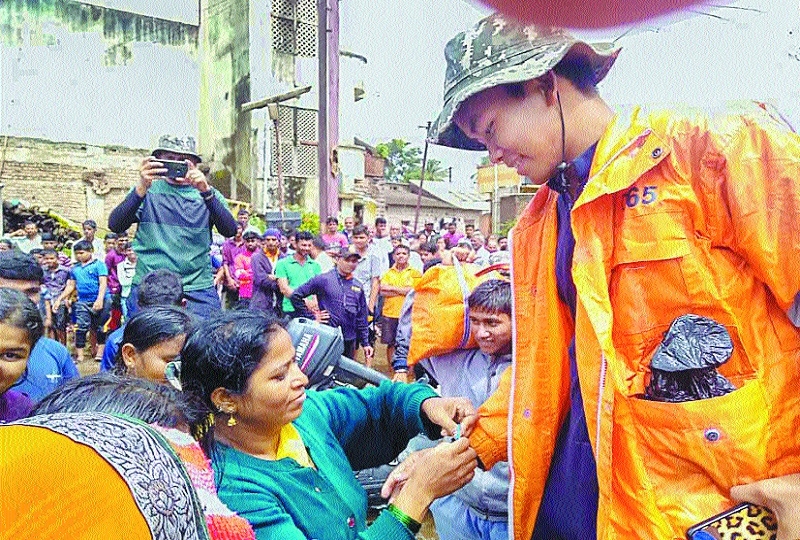 Women tie 'rakhi' to Navy officials in Kolhapur
KOLHAPUR:
BEAMING with joy and hope after being rescued by Indian Navy personnel, some women in Maharashtra's Kolhapur district were seen tying 'rakhis' on the wrist of their 'saviours'. Surrounded by floodwater, some women in Rajapur village expressing gratitude towards the security personnel tied them rakhi. Pictures of women tying 'rakhis' were shared by Navy on Twitter which gained widespread praised by netizens.
"Heartwarming scenes witnessed in village Rajapur, Kolhapur as ladies tied 'rakhi' to their Indian Navy brothers for fulfilling their 'dharma' by protecting them when all hope seemed lost," the spokesperson Twitter along with four photos featuring Navymen on a boat. Over 15 teams of Navy have been carrying out rescue operations in flood-affected areas of Kolhapur district. Besides Navy, the Air Force, Army and personnel of National Disaster Response Force (NDRF) are also engaged in relief and rescue operations.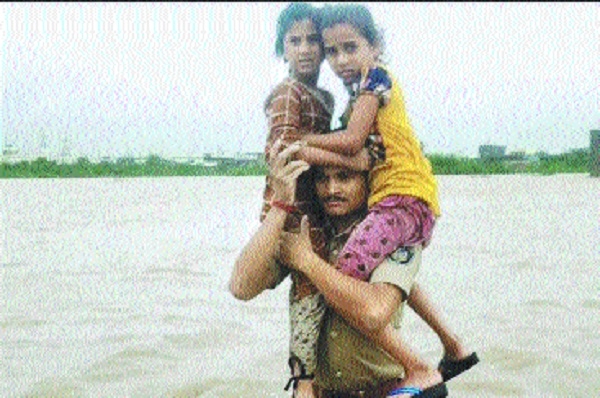 Guj cop carries 2 kids on shoulders in flood water
AHMEDABAD:
IN A heartwarming gesture, a police constable carried two children on his shoulders and waded through knee-deep water in order to move them to safety from flooded Kalyanpur village in Morbi district of Gujarat. A video of the constable's brave act has gone viral on social media, earning him praise from many, including Gujarat Chief Minister Vijay Rupani. Constable Pruthvirajsinh Jadeja, who is attached to Tankara police station, rushed to Kalyanpur village on Saturday along with other policemen after coming to know that 42 people, including 17 children, were stranded there due to flooding as a result of incessant downpour in the region.
When the policemen found that the water level was rising, they launched a rescue operation along with local swimmers and villagers. In order to shift the stranded people from the place, they even constructed a makeshift boat. However, Jadeja decided to carry two of the stranded children on his shoulders to move them to safety. Carrying them on his shoulders, he waded through knee-deep water for around 800 metres and moved them to a safer place. Jadeja, who hurt his leg in the process, said one of his colleagues helped him by administering first aid to him. The police team finally moved all the stranded villagers to safety.