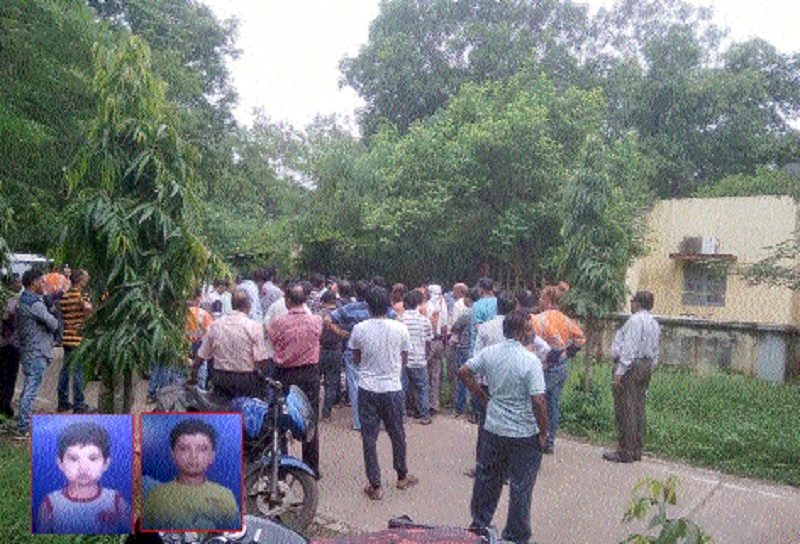 The inquisitive people gathered near the house after police recovered three dead bodies. (Inset) Supriya Singh and Pratush Singh.
Staff Reporter:
BHILAI
SENSATION prevailed in Bhilai after the incident came to light in which a woman along with her son allegedly committed suicide by hanging after having strangulated to death her five years old daughter in ACC Colony, Jamul on Monday morning.
According to information, at about 12:30 pm on Monday, Meera Singh (39), wife of Ranjeet Singh, a resident of ACC Colony, Jamul and her son Pratush Singh were found hanging dead in different rooms of the house while Supriya Singh (5) was laying dead at the bed with strangulation marks on her throat. The police said that Meera Singh's body was hanging from the ceiling fan with the help of a thin sheet of cloth in the bedroom while Supriya Singh was laying dead at the bed.
The police recovered the body of Pratush Singh that was hanging with another thin sheet of clothe in the adjoining room. The matter came to light when the maid servant and milkman reached the house but no one opened the door even after repeated knockings and neighbours contacted Meea Singh's husband Ranjeet Singh, Safety Officer, ACC, Jamul over the phone. After Ranjeet Singh came home he along with neighbours broke open the door and met the shocking sight. Vishwas Chandrakar, CSP, Chhaoni Police Subdivision, Bhilai informed that Meera Singh was found hanging dead in the bedroom while Supriya Singh was laying dead at the bed in the room.
He informed that Pratush Singh's body was found hanging in the adjoining room. In the preliminary investigation, it appeared that Meera Singh committed suicide by hanging self from the ceiling fan with the help of a thin cloth sheet. However, there were injury marks on throat of Supriya Singh, supporting the assumption that she was strangulated to death while there were no such marks on body of Pratush Singh but homicidal hanging could not be ruled out in his case.
He added that the facts including cause of death in each case would finally be ascertained after thorough investigation and on receipt of autopsy report. He also informed that the main door and backdoor of the house were bolted from inside and there were no traces of forcible entry. In the investigation so far the police are yet to establish the reason and circumstances under which Meer Singh took the extreme step.