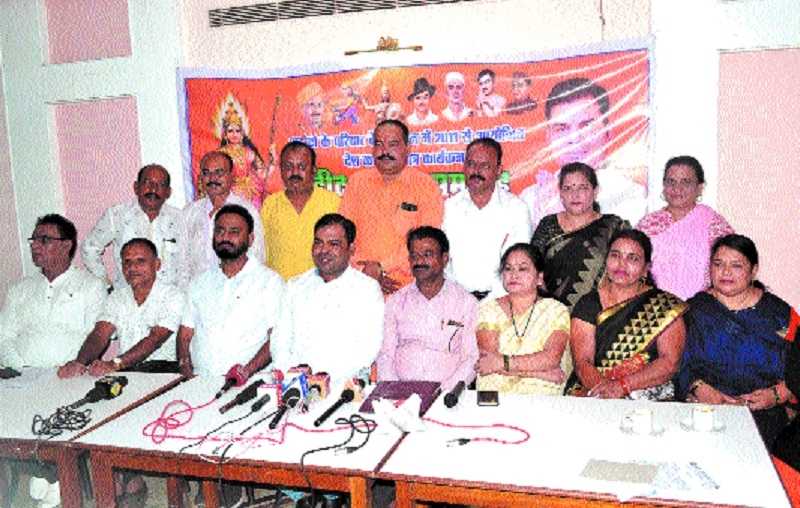 Social worker Amit Khamparia accompanied by other members addressing a press conference. (Pic by Anil Tiwari)
Staff Reporter:
"With an aim to honour bravehearts of the Indian Army, Navy, Air Force, Madhya Pradesh Police and CRPF and family members of martyrs, 'Shaheed Samman Samaroh-2019' will be organised on the occasion of 73rd Independence Day on August 15. Shaheed Samman Samaroh is organised every year on the initiative of social worker Amit Khamparia on the occasion of his birthday.
Family members of a large number of martyrs who sacrificed their lives while serving the nation will be honoured during the programme. Besides this, national poet Saurabh Suman will be specially arriving to provide complete entertainment during the programme," informed Founder of Shaheed Samman Samaroh-2019 Amit Khamparia while addressing a press conference on Monday. Amit Khamparia informed that the programme will be organised at Pragya Mandapam behind Mehta Petrol Pump, Labour Chowk, 2 pm onwards.
Chief guest of main function will be Lieutenant General R K Rana, Station Commander and Cantonment Board, President, Brigadier Rajesh Negi, while Inspector General of Police (Jabalpur Zone), Vivek Sharma and DIG (Jabalpur), Bhagwat Singh Chouhan will pay homage to martyrs. Guests will honour family members of martyrs who sacrificed their lives for the nation while serving in Indian Army, Navy, Air Force, Madhya Pradesh Police and Central Reserve Police Force (CRPF). Besides this, Paramveer Chakra, Veer Chakra and Presidential Award achievers will be honoured during the programme. Organising committee members Sameer Dixit, Dinesh Preet, Dhananjay Bajpai, Arun Mishra, Arun Mishra, Yaduvansh Mishra, Sunita Pandey, Meera Dubey, Jagrati Mishra, Sudhakar Mishra and others have appealed to people to be present during the programme in large numbers and pay rich tributes to martyrs.