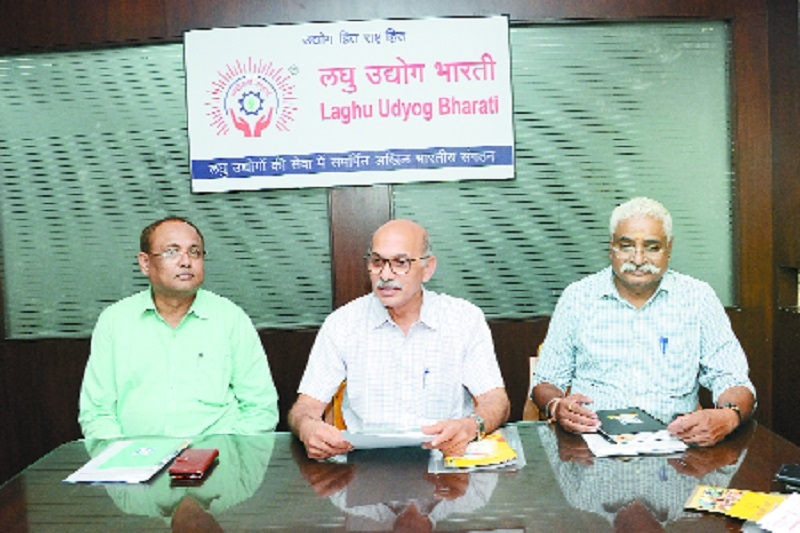 Dr Naresh Jadhav, Dr Rani Lakhe, Dr Sunil Sahasrabuddhe, Mahesh Nangia, Dr A K Gunju and Dr Vaibhav Sonwane at the press conference on Monday.
Business Bureau:
LAGHU Udyog Bharati (LUB), a premier organisation that unites the most effective constituents of the industry sector of the country-the micro, small and medium enterprises is celebrating its silver jubilee year. The concluding ceremony of the silver jubilee year will be held with a national convention in city. Talking to media on Monday, Govind Lele, National General Secretary of Laghu Udyog Bharati said, "All India Convention of Laghu Udyog Bharati will be held in city on August 16, 17 and 18 at Suresh Bhatt Sabhagruha.
Dr Mohan Bhagwat, Sarsanghachalak of RSS and Nitin Gadkari, Union Minister for Road Transport, Highways and MSME will be the guests for the inaugural function on August 16 at 4.30 pm." Lele said, LUB office-bearers who are entrepreneurs and 3,000 in numbers are expected to participate in the event. The convention will have three seminars. In the first seminar on 'Waste to Wealth Creation', Nitin Gadkari will be the key speaker along with Satyanarain Dangayach, founder Trustee, 'Innovative Thought Forum', former Executive Director of Sintex Ltd.
A state-wise meeting and get together is also scheduled on day one. On day two, there will be seminar on 'Motivation: Attitude to accept change and challenges' by Art of Living Corporate Group. There will be seminar on 'Research and Development' by Dr Ashok Rao. Dr Vishram Jamdar, Chairman of National Institute of Technology, Nagpur and Chairman Central Committee on Establishment of Center of Excellence will give special presentation. Santosh Kumar Gangwar, Union Minister for Labour and Employment will be the key speaker for the seminar on 'Labour Code Introduction and Information'.
Piyush Goyal, Union Minister for Railways and Commerce will give presentation on DIPIT policy for import substitution and export. The silver jubilee programme 'Udyami Sammelan' will be organised on August 17 in which Dr Ajit Singh, Chairman and Managing Director of Associated Capsule Ltd, Mumbai, will the guest of honour. The main speaker of function will be Dr Krishnagopal, Sarkaryawah, RSS. The special invitee will be Piyush Goyal. "Finance Minister Nirmala Sitharaman has also been invited. We are yet to receive confirmation," Lele said. On August 18, product-wise meeting, organisational topics discussion and annual general body meeting will be held. Also present were Sashibhushan Vaidya, National Vice-President and Udayan Shrouti, Nagpur Unit President.