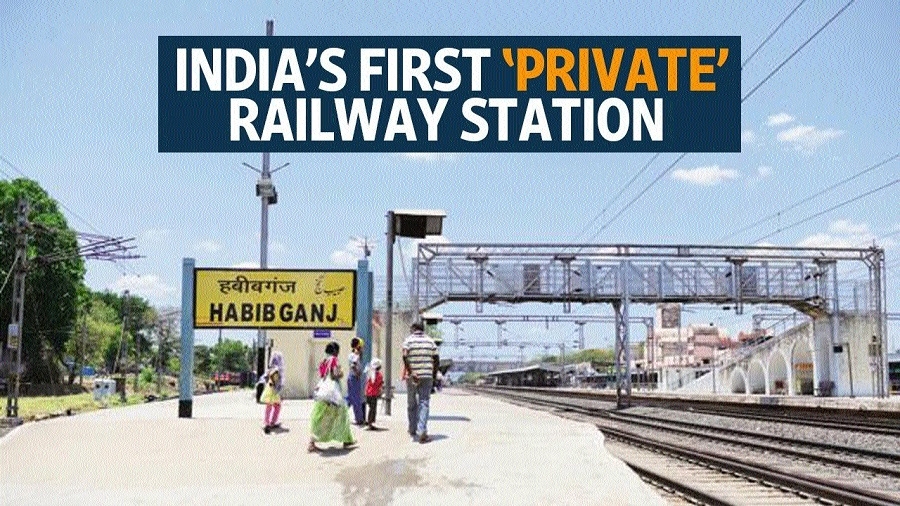 Staff Reporter:
The station is being redeveloped under World-Class Project Construction work at Habibganj Railway Station is still continuing, but on the other hand, it is creating chaos for the passengers, especially during rains. Many passengers at the station complained about the slippery floor and mud. A passenger said, when it rains, the entire patches on the floor fill up with water and mud. The station is being redeveloped under World Class Project. Continuing the construction work at Habibganj Railway station, various facilities like travelator, ramp, etc. have been closed for few months. Passengers at Habibganj Railway Station are bothering over this arrangement as they have to walk extra metres for reaching the destination. The construction work is being done by a private company under Public Private Partnership (PPP) mode. At present, travelator and ramp facilities at all platforms have been closed. Now passengers have to move on the foot over bridge via stairs.
According to officials, ramps of all platforms will be broken and old foot over bridge will be connected to the stairs. These changes are being made to construct new foot over bridge. The station is being developed as world-class by a private company on public private partnership mode. The target is to complete the construction work by October 2020. Under the world-class project, all construction work is being redesigned and stairs of platform no 2 and 3 are in final stage. Work on stairs of platform no 2 and 3 is underway since January. After starting the work on stairs, the ramp will be broken. Construction work of foot over bridge will be continued for a year and it will be directly connected to the underground subway. There will be facility of travelator at all platforms to reach the foot over bridge.
Till construction work continues, passengers have to use stairs only. By the end of the year, there will be 24 girders on 12 lines and after that, underground subway work would be speeded up. Food plaza at platform no one was closed for a month due to new tender issues. It is first private railway station being developed at a cost of Rs 450 crore, where entire station can be vacated in just four minutes in case of any emergency. The station will include several modern facilities for the convenience of passengers. According to sources, station is being redesigned on Germany-based railway station that will have general exit, emergency exit and underground exit for emergency situations.
These exits would help about 10 passengers to exit the station within four minutes. In case of fire incident, extinguisher would automatically get on and fire would be under control even before arrival of the fire brigade. At present, under tunnel work is going on. There will be hotels, multilevel parking, shopping complex, malls, entertainment zone, food zone and other facilities for passengers. All platforms will be covered and various provisions will be made for safety of people. Under the project, there will be two subways for commuters from platform no 5 to 1. Notably, project of Habibganj World-Class Railway Station was proposed during year 2006.
There are proposals to provide modern facilities such as escalator, elevator, ramp, separate arrival and departure lounge for passengers, replacement of foot over bridge with concourse, parking lot, landscaping, walkway, travelators and parcel corridor. Separate arrival and departure lounge will help to get rid of chaos at the station. There will be food plaza, medical clinics, office complex, etc., space to earn revenue.