'Indians believe in philosophy of sustainable profit since ages'n Business Bureau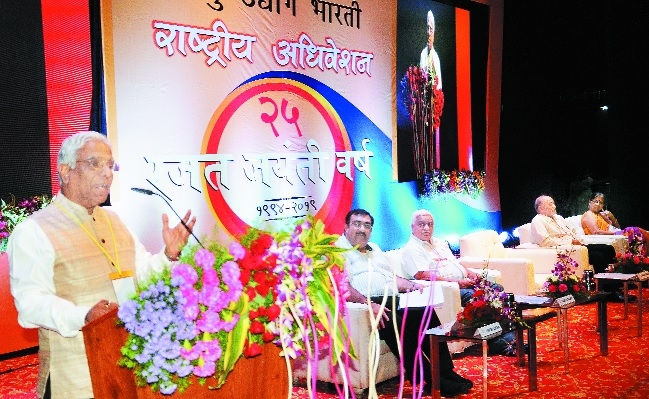 Satyanarain Dangayach
"The first modern economist of the world was Chanakya. He covered everything in his Arthashastra," said Satyanarain Dangayach, Founder Trustee of Innovative Thought forum and former Executive Director of Sintex Ltd. Dangayach was speaking as an expert at a seminar at the 'Silver Jubilee Year Convention' of Laghu Udyog Bharati. The topic of the seminar was 'Waste to Wealth Creation'.
Dangayach said, "The philosophy of capitalism given by Adam Smith is only dealing with creation of wealth or 'profit'. While it has no place for environment conservation or even welfare of people. However, in India it is a custom to write 'Subh-Labh' on gate and on every place. We Indians believe in welfare of all through profit. We believe in sustainable profit which is ethical and for the benefit of all," Dangayach said. He said, before 1974, very less was spoken about environment conversation. "But with the Swachch Bharat Abhiyaan, the importance of conservation of environment and cleanliness has increased manifold."
He said, emphasis is being given on organic fertilisers and they are superior than chemical fertilisers. "Lots of laws and rules for all types of waste have come into force," he added. Elaborating how waste can be converted into wealth with several examples, Dangayach spoke on Fly Ash Mission. "250 million tonne of fly ash has been generated in the country during a year. Out of which 120 million tonne is being used in various building materials giving Rs 40,000 crore returns. If the remaining is used, it can also give us returns of more amount," he said. He added that 15 to 25 per cent of the agriculture produce is increased by using fly ash. Fly ash is also useful in increasing wood production of forest.
He also explained about various other products that can be turned into wealth. "About 90 per cent of the plastic can be recycled," he said. He also explained about the concept of cleaner production centre and zero liquid discharge. He was introduced by Baldev Prajapati.