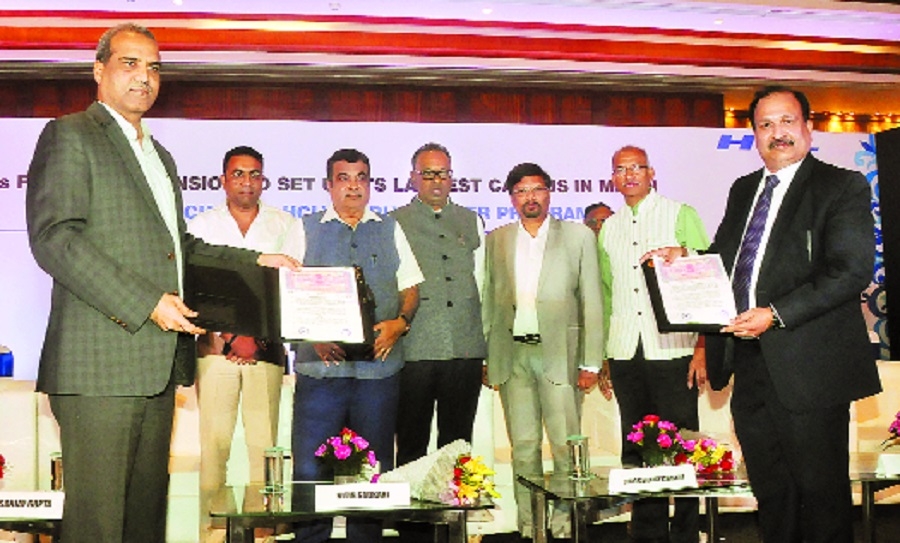 Suresh Kakani, Vice-Chairman & MD, MADC and Sanjay Gupta, Corporate Vice-President of HCL
holding the MoUs. Also seen are Union Minister Nitin Gadkari; State Energy Minister Chandrashekhar Bawankule; MLA Sameer Meghe; MP Dr Vikas Mahatme and Apparao V V, CHRO, HCL at the event.
Business Bureau:
HCL Technologies Limited, one of the largest IT companies in the country, has signed a memorandum of understanding (MoU) with MADC for expansion of its existing centre in MIHAN. The MoU was exchanged between Sanjay Gupta, Corporate Vice-President of HCL Technologies and Suresh Kakani, Vice-Chairman and Managing Director of MADC in the presence of Nitin Gadkari, Union Minister for Road Transport, Highways and Shipping and Ministry of Micro, Small and Medium Enterprises on Sunday. Chandrashekhar Bawankule, State Energy Minister and Guardian Minister, Krupal Tumane, MP, Sameer Meghe, MLA, Dr Vikas Mahatme, MP, Vijay Mallya, Executive Vice-President, Financial Services, HCL, Apparao V V, Chief Human Resources Officer (CHRO), HCL, and Shailesh Awale, Nagpur Centre Head, HCL were also present. The HCL Nagpur centre in MIHAN had earlier acquired 140 acres of land and paid the full amount. But in 2016 the company had taken possession of only 50 acres and returned the remaining 90 acres. However, the company has once again acquired the piece of 90 acres for expansion. On the occasion, Gadkari said, "MIHAN needs to be marketed in a proper manner to attract more investment which will generate more jobs.
This project is important for me as it has emotional attachment." There are various advantages Nagpur has like being strategically located in the heart of the country. Nagpur is well connected to all the major cities by road, rail and air. It is also known as the Tiger Capital with more than 350 tigers. In addition to this Vidarbha has 80 per cent minerals of the State. "Nagpur has the potential to become a major investment destination," he said. In addition to this, the construction work of the international airport is under full swing and will be complete within two years. Gadkari said he wants to change the socio-economic scenario of the people residing in Nagpur. "My ultimate dream is to create 50,000 jobs for local youth," he pointed out. HCL has committed to employ more than 8,000 local youths within five years. Currently HCL in phase I has invested Rs 120 crore and employing 1,000 local youths.
In phase II it will further invest Rs 120 crore and employ 1,000 youths. The total investment will be more than Rs 500 core. HCL has planned to develop the Skill Development Centre and make it the Western Hub. HCL already has centres in Mumbai and Pune. Sanjay Gupta said that the company is planning to make Nagpur centre the Western Hub of its IT services. The first batch of Tech Bee students is in its second year. "Students of Nagpur are very intelligent with lot of potential. With upskilling these students will be able to compete with the best in the world. HCL will also be constructing residential housing on a 19.6 acre land it has already acquired near the centre. It is also training 1,500 engineering students from all over the country. HCL also launched the Tech Bee early career programme for local youths.