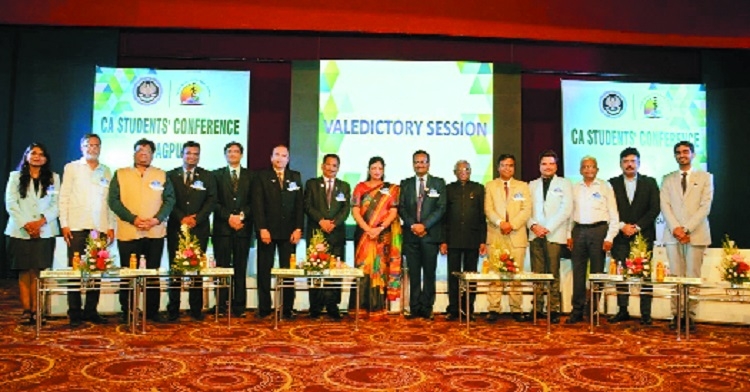 Business Bureau:
"We are working for public welfare effortlessly because of chartered accountants," said Navneet Rana, Member of Parliament while speaking as a chief guest at the valedictory session of CA student's conference. The theme of the conference was 'Path to success' organised by Board of Studies, ICAI, New Delhi and hosted by Nagpur Branch of WIRC and Nagpur Branch of WICASA of ICAI. Rana said, "The mantra for success is believe in yourself and the whole world will follow you."
She told that she gets energy and motivation from her husband Ravi Rana, MLA who always recites the unparalleled hard work done by chartered accountants. "Nothing is impossible in life if you are dedicated and focused on your goals," Rana said while narrating her journey and transformation from being an actress to becoming Member of Parliament who was the youngest independent candidate from Maharashtra and won from Amravati constituency. "Be yourself, never bow down on your principles and ignore the fear of critics.
Success will be yours and never allow attitude of success to overpower you," she said while motivating the students who are the future of tomorrow. She expressed her happiness to see increasing number of girls in chartered accountancy profession and assured her whole- hearted support for women empowerment. Rana urged CA students while terming them as power package of 'Young India,' that continuous efforts are very important. Never ever wobble and always have positive thinking, she said while addressing 700 plus students. She asked the students to aim high with knowledge to take informed decisions. "You should be loyal to your profession and always keep gratitude and respect for sacrifices of your parents," she remarked. "CA students are the future of budding India probabilities" said CA Jaydeep Shah, Past President of ICAI while speaking as a guest of honour on the occasion.
"Youth is the power of a technocrat India in the making and knowledge and personality up-gradation through such conferences prepares a base for such students to excel and work for development of country. CA Durgesh Kabra, Vice-Chairman, BoS expressed satisfaction for the efforts put in by Nagpur Branch for making this conference memorable. He guided the students about various initiatives taken by BoS for enhancing knowledge base and examination contents matching in line with recent changes in Indian economy. "Express yourself confidently," said CA Suren Duragkar, Chairman, Nagpur Branch while thanking all the dignitaries for gracing this two-day CA students conference.
He said, "The struggle you're in today is developing the strength you need for tomorrow." Duragkar congratulated Team WICASA led by CA Sanjay Agrawal, WICASA Chairman for the successful and intriguing conference and acknowledged the presence of CA Durgesh Kabra for gracing the occasion. CA Sanjay M Agrawal, WICASA Chairman, thanked BoS, ICAI, New Delhi and CA Keimisha Soni, Chairperson, BoS and CA Durgesh Kabra for allotting this prestigious conference to Nagpur.
"For every conference coming together is a beginning; keeping together is progress; working together is success," Agrawal said. He appreciated the entire WICASA Team comprising of Ayush Gupta, Aditi Pacheriwala, Riddhi Kothari, Vaidik Sakoniya, Krunal Dhabale, Ayushi Agrawal and R. Aishwarya. Sahil Sheikh and Shikha Mehta co-ordinated the valedictory session while Aditi Pacheriwala, Secretary WICASA proposed the vote of thanks. Prominently present were CA Kirit Kalyani, Vice-Chairman, CA Saket Bagdia, Secretary, CA Jiten Saglani, Treasurer, CA Akshay Gulhane, Executive Committee Member, CA Harish Rangwani, Executive Committee Member, CA Julfesh Shah, CA Sandeep Jotwani, CA Lalit Loya, CA Ashok Dalmia, CA Sunil Sharma, CA Jalaj Baheti, Vice-Chairman, Akola Branch, CA R R Khandelwal and CA Nilesh Lathiya from Amravati and others.