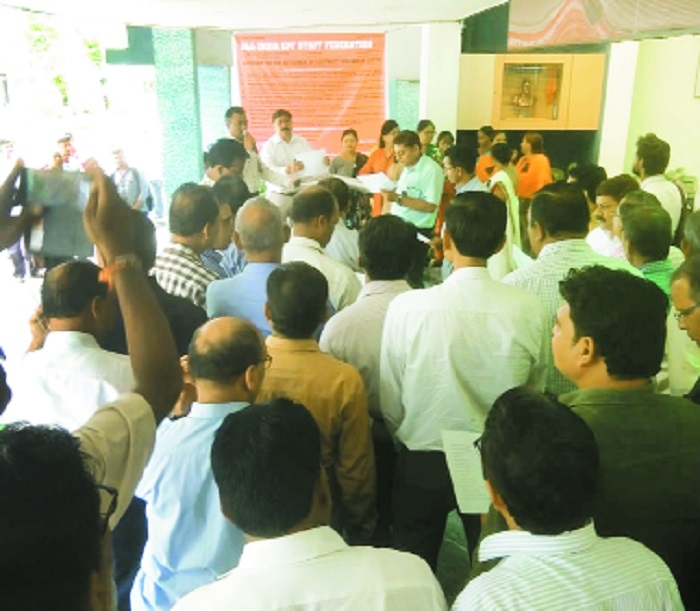 Business Bureau:
Intensifying their agitation, the staff of city based office of Employees' Provident Fund Organisation (EPFO) on Monday launched five-day 'lunch hour demonstrations'. More than 170 staff members raised slogans during lunch hour and highlighting their various demand. Since August 1, about 18,000 staff members spread across the country are agitating under the banner of All India Employees Provident Fund Staff Federation (AIEPFSF). Vice President Bharati S Mudhalkar, other office-bearers of the city unit of the union and large number of staff members participated in the agitation.
"We have started second phase our agitation today and we will continue it for next five days. Apart form this we are all set to observe one day token strike on August 28," said Nagpur Unit Secretary and Organising Secretary of AIEPFSF - Vijay C Thakre. He said that the agitation is being observed in order to resolve the long pending issues of promotions, recruitment, financial upgradations and alleged fooling Group B, C and D cadres while extending benefits consequent upon implementation of cadre restructuring report. "EPFO management has being harassing and staff for quite long.
The staff members are being deprived of their legitimate rights and demands. The benefits of Cadre Restructuring were assured and approved by Minister of Labour and Chairman of Central Board of Trustees with effect from 09.12.2015 in its 210th meeting. But as usual the adamant management implemented it with effect from 27.12.2016 that too partially and yielding no monetary benefits to any of the staff, who are the actual workforce of the department," he said.
AIEPFSF, the only recognised union in its sector, has launched all India level agitation from August 1, which will continue till August 27. In the first phase of the agitation, the staff have been wearing black badges. But now they have also started the lunch hour demonstrations under the guidance of President of the Union and Member of Parliament N K Premachandran and R Kurpakaran, Secretary General, All India EPF Staff Federation.