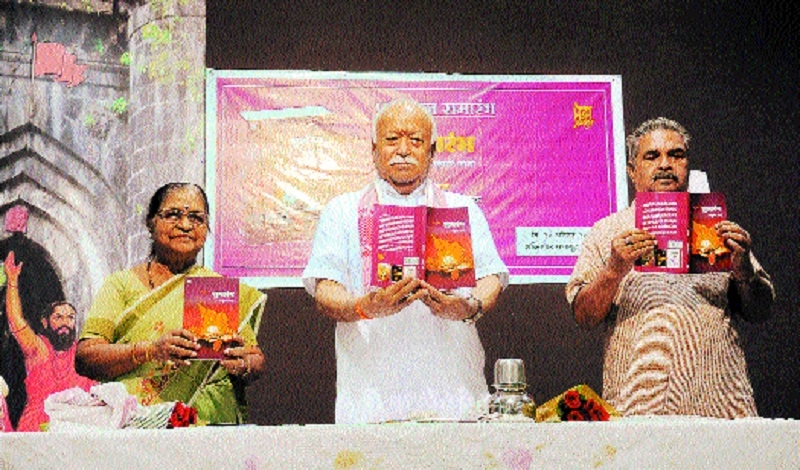 Staff Reporter: Reach the people in remote areas in different regions to develop a feeling of oneness. The experience narrated by Nandkumar Joshi in his book 'Shubharambh' should help us in making a beginning in this direction, said RSS Sarsanghchalak Dr Mohan Bhagwat. Dr Bhagwat was speaking after releasing the book on Tuesday. Renowned novelist Shubhangi Bhadbhade was the chief guest. Author of the book Nandkumar Joshi was seated on the dais.
Dr Bhagwat said that North-East has remained neglected. The divide among Indians based on regions, was taken advantage and the nation faced several aggressions. The efforts to unite them began in 1857 and intensified during the last 50 years. The efforts are yielding results, which is indicated in the book by Joshi. Dr Bhagwat appealed to the people to read the book and start working for spreading the feeling of oneness even in regions which have remained away from the main stream of life.
The book is a good initiative, which should inspire others to think and work on it by changing their attitude towards people in Arunachal Pradesh and other States in the North-East. Bhadbhade stated that the book is not a literary contribution as understood commonly. By it is sharing of experience of Joshi and others to help readers understand the life in some part of their own country. She also appreciated the thoughtful design of cover and back page of the book.
Talking about the book Joshi narrated some of his experience, while working in Kokila village in Jiro region, where Karbi and Chakma tribes are living together. Karbi are Hindus and Chakmas are Bangladeshi refugees and a Buddhist. He also spoke about contribution of Vivekanand Kendra in undertaking various social and educational activities in the region and its impact. Joshi also briefly gave a picture of the region and difficulties faced in living there by local residents and also the visitors. Earlier, Dr Bhagwat and Bhadbhade were felicitated. Tributes were paid to Prof Anant Vyavahare and Babanrao Badhiye. Remarks of publisher Sachin Upadhyay of Vijay Prakashan was read out, as he could not attend the programme. Prasad Barve conducted the proceedings. The programme concluded with recitation of Vande Mataram.